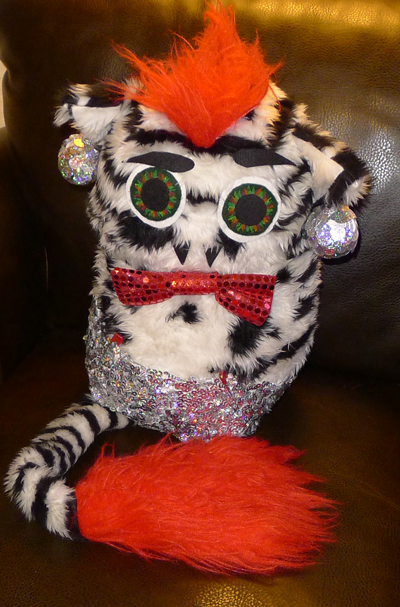 To start April out right, I've returned to my "Making It Happen" series - and I've scored an interview with another of Wellington's style icons. Someone global, yet local, who shows us all the power of creativity, self-determination, and being body positive! I first met this charmer on Cuba Street, of course, at Fidel's Cafe. A fedora at a rakish angle over crimson hair caught my eye, along with the glimmer of sequins. This was someone I had to meet. Turns out this unique individual, who I was
repeatedly
assured was from Paris, was from a tribe associated with New Zealand's festival of festivals, our
Kiwiburn
. Not only is Fandangle's style advice popular online, but Fandangle was a noted presence at the Kiwiburn free clothesline this year, even appearing in the
Wanganui Chronicle
. With festival style hotter than ever, I knew I had to bring you some style advice from the source. Fandangle came to my house for an intimate
tête-à-tête,
interview and styling session. Without further ado...Fandangle Fabulus.
Hi Fandangle!
HULLO SADEE! I MUS SAY YOO LOOK LUVLY. BUT YOO CAN LOOK BETTER AND I SHOW YOO HOW IN MAKOVER TOODAY. OF CORSE YOO CAN NEVVER LOOK AS GOOD AS MONSTER BUT WEE SEE WAT WEE CAN DOO.
Oh wow, thank you so much! I do feel very unglamorous compared to you. But to start ...how does a young monster become a style icon?
WELL YOO NO IT NOT EESY. PEEPL SAY "WOW FANDANGLE YOO SUCH A NATRAL AT FASHUN" BUT DEY NOT NO HOW MUCH WORK IT IS TO BEE DIS GOOD. I PUT CLOTHS ON AND OFF A LOT. LIKE EVRY DAY I SPEND 8 OR 9 HOURS PUTTING CLOTHS ON AND OFF. JUS SO I CAN STAY FITT FOR FASHUN. MOST PEEPL NOT REELISE DAT WAT IT TAKE OR MAYBEE DEY JUS LAZY. DEY WONDER WY DEY NOT SO FASHNABUL BUT IT COS DEY NOT PREEPARED TO WORK HARD.
 Tell us about you and Paris.
OMG I LUV PAREE AND PAREE LUV MEE! WOW I SUCH A POET!!!! I ONLEE RECENTLEE MOV TO LITTUL NEW ZEELAND FROM PAREE AND IT A BIT WEERD FINGS SO DIFFERENT HEER. LIKE IN PAREE PEEPL STAY STILL A LOT AND NOT WEER CLOTHS EXCEPT IN FASHUN WEEK. HEER AR PIKSHURS OF SOM PEEPL IN PAREE JUST BEEING STILL AND NOT WEERING CLOTHS:

PEEPL IN LITTUL NEW ZEELAND TRY TO DO DAT TOO BUT I FINK DEY NOT QWITE UNNERSTAND:
I MISS SO MANNY GRATE FINGS FROM PAREE. LIKE BEEING GEST OF ONUR AT PARIS FASHUN WEEK. DIS MEE SOOPERVISING IN 2013: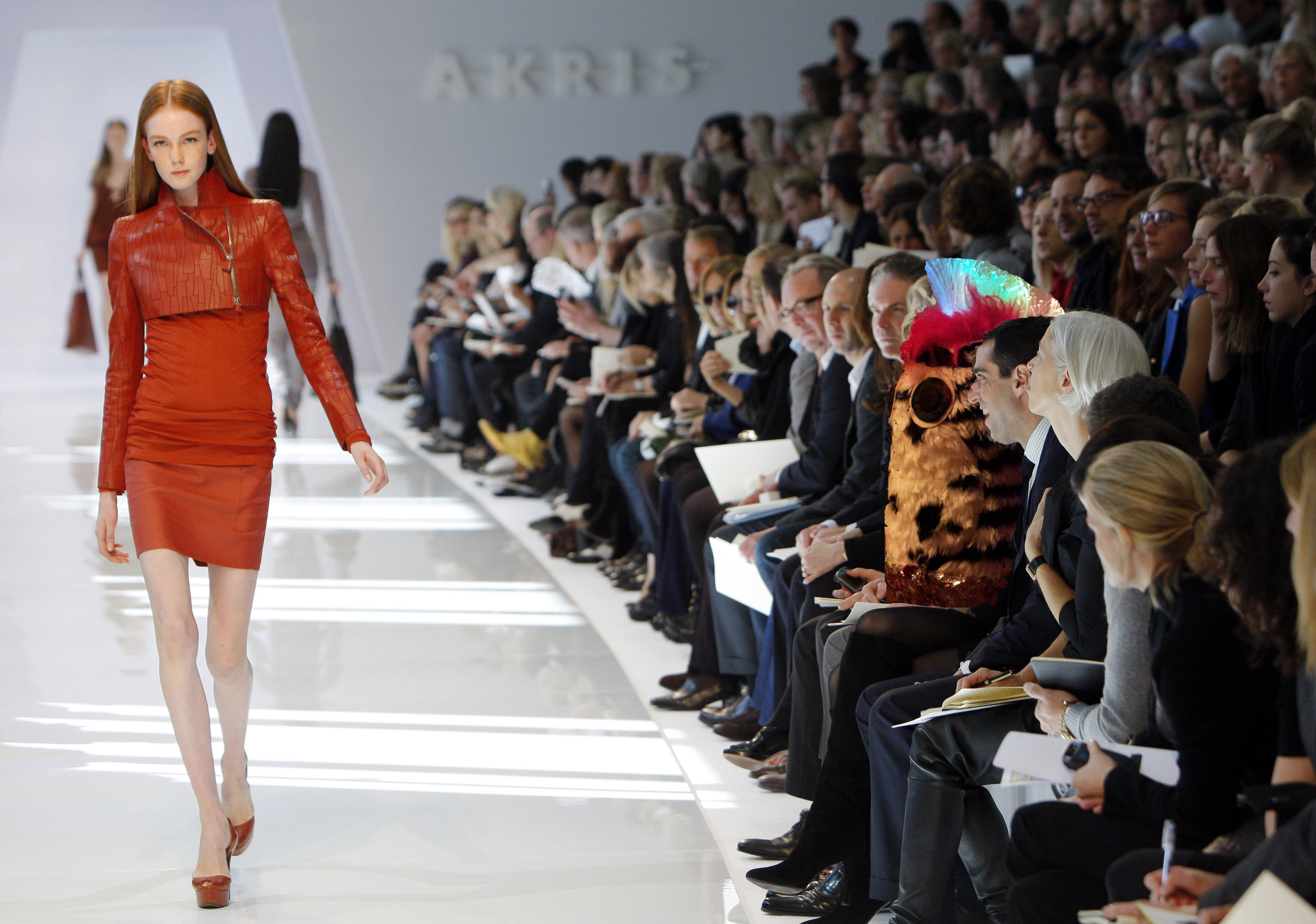 AND I USED TO CLIME I-FELL TOWER EVRY DAY (IT CALLED DAT COS LOTS PEEPL FALL OFF AND IT FUN TO WATCH) AND I MISS TAJ MAHAL AND STONHENGE TOO.
 Have you got a favorite item of clothing?
OMG WAT?????? I LUV ALL CLOTHS!!!!!!!! WELL OK MAYBEE MY FAVRIT CLOTHS AT MOMENT IS DIS WUN: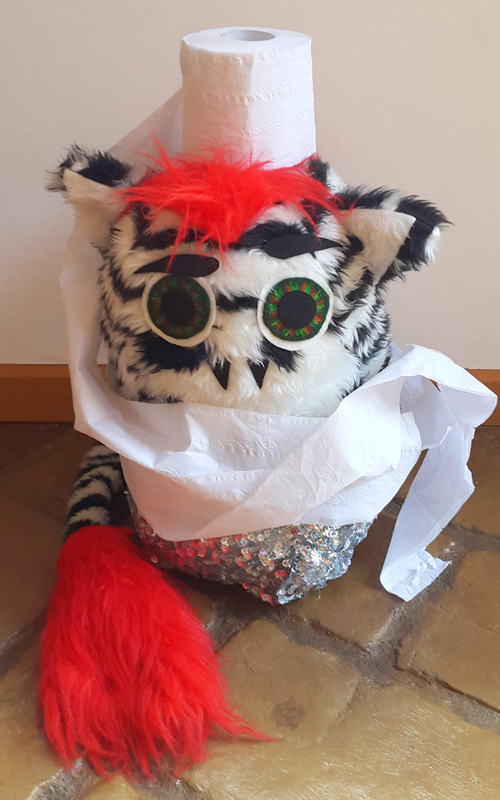 IT SOO VERSATIL. IT LIK HATT AND SCRAF ALL IN ONE. AND YOO CAN USE IT FOR TALE WARMER IN WINTER TOO!!!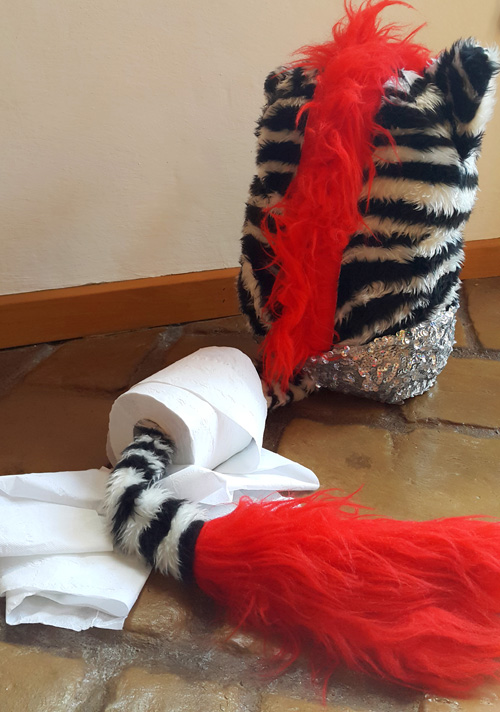 I QWITE LIK YOR CLOTHS SADEE. I CAN HELP YOO WIV MAKOVER BETTER IF I TRI DEM ON …
What's your most recent purchase?
I NOT NO WAT YOO MEEN. PURR-CHASE … DAT SOM KIND OF CAT???
Okay then, moving on...who are YOUR style icons?
WELL I FINK EVERYWUN NEED DERE OWN STILE SO I NOTT ENCURAGE PEEPL TO COPPY. BUT DESE AR SOME PEEPL WIV GRATE FASHUN IDEERS:
How do you stay so fit and oval? I believe you come from a very athletic family.
LIKE I SAY BEFOR I WORK VERRY HARD PUTTING CLOTHS ON AND OFF FOR HOURS EVRY DAY. DAT HELP MEE KEP MY FIGERR. AS WELL AS DAT I CARFUL TO EET ENUF. SOMTIMES MONSTER CAN DIET TO MUCH: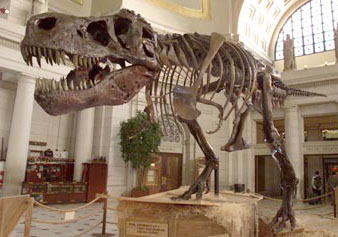 So true! It's all about a healthy balance. You're very well known as an avatar of "festival style." What are some great outfits you've seen at New Zealand festivals?
OMG! WELL DIS GRATE HATT I FIND AT KIWEEBURN DIS YEER: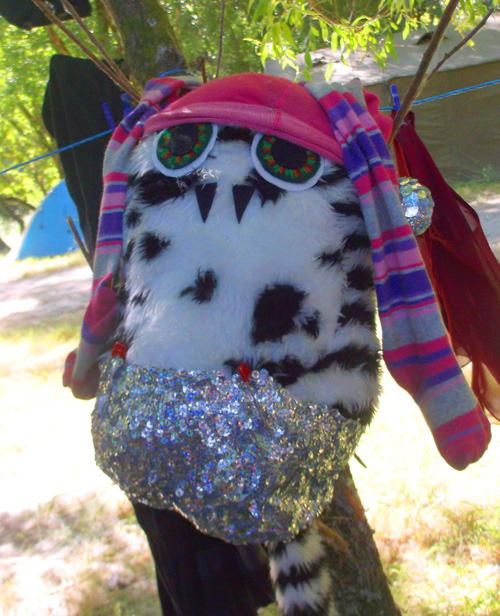 WAT I FINK WEERD THO IS HOW HOOMINS WEER HATTS AS NAPPYS. IT LOOK SO STOOPID! DIS MEE PRETENDING TO BEE HOOMIN WEERING HATT AS NAPPY. HAHAHAHA!!!!!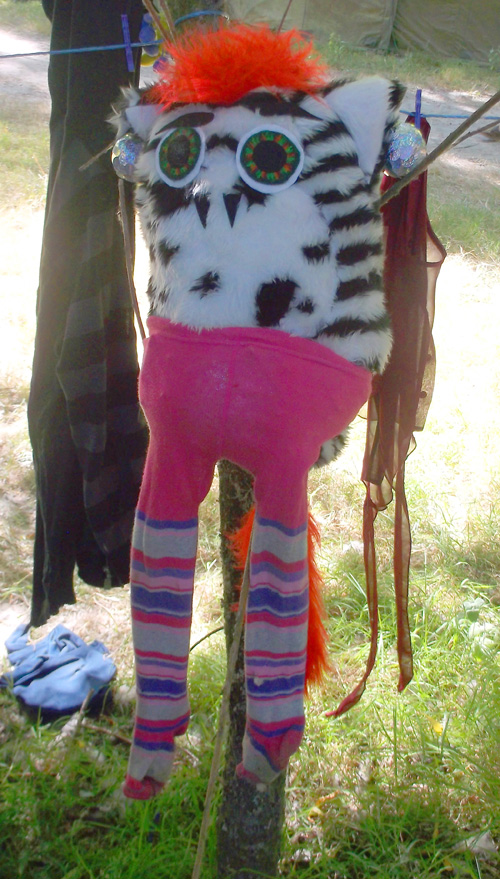 Do you have any style advice to inspire our readers?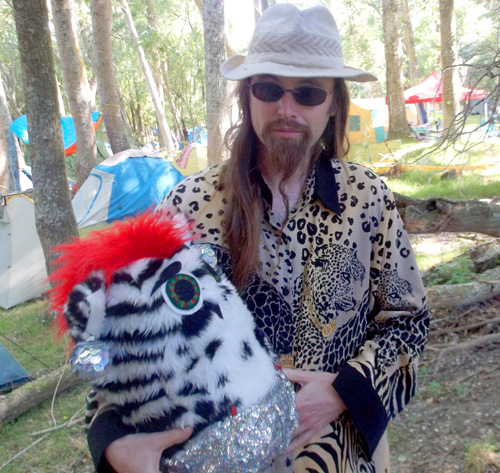 I ALWAYS SAY YOO HAV TO KEEP IT REEL. LIKE DIS MY FREND BILLY. HEE WEERING SHIRT WIV COOL LEPPARDS ON IT BUT IT BE MUCH BETTER IF DEY WERE REEL LEPPARDS. SO YEA. YOO SHOOD ALL REMEMBER: MOOR REEL = MOOR FASHNABUL! DON'T WEER HATTS AS NAPPYS!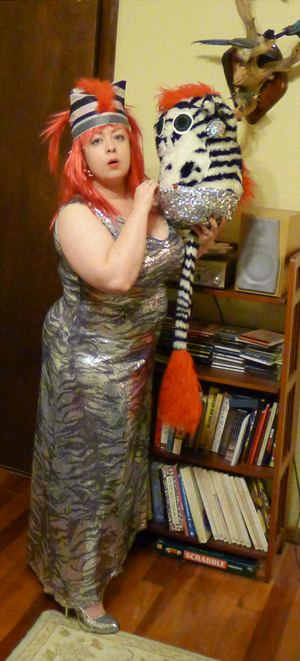 Thank you so much, Fandangle! We'll always have Paris!
After we wrapped up our interview Fandangle took the time to style
me.
Fandangle recommends a palette of black, white, silver, stripes, and crimson, and a bold hand with lipstick. I even had my hair done, and the whole ensemble was capped off by Fandangle giving me my very own monster-made hat. "HATTS ESSENSHUL!" I couldn't agree more, especially as we enter the cooler weather. Here I am after my "fabulus" makeover. I think we all agree: it's a definite improvement. For your own style tips, you can keep up with
Fandangle Fabulus on Facebook.
You can also see the rest of Fandangle's family, Kiwi monsters at large Tangle, Dangle, and little cutie Mangle on
YouTube
and on
Tumblr
.