Emceeing and Performances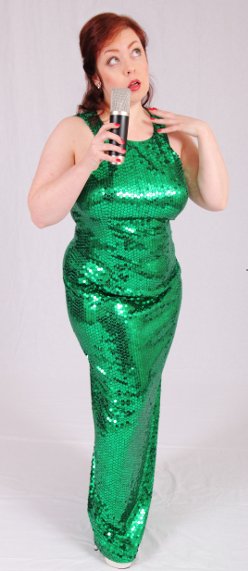 As Sadie von Scrumptious, I've been participating in Wellington burlesque since 2010. What I do includes show and party emceeing, production, posters, and workshops. I also love stylish, quirky events such as subculture conventions, club nights, and fashion shindigs.
What makes burlesque special? A burlesque event, cabaret, or ball is a zone outside of daily life, be it grungy or glam – and emceeing should create that space for the audience and the performers. When I emcee, my style is Mae West meets Weird Al Yankovic.  I bring snappy, swanky patter to New Zealand events in my American accent, I've got plenty of chutzpah,  and I never pay retail.
Events

2013:
Produced the Burlesque Rainbow for Out in the Square.
Caburlesque – Great Gatsby Style, February 2nd – Emcee
Aeon Dressmaking Fashion Show, March 15th – Emcee
Caburlesque on April 6th – David Bowie tribute show – Emcee
Le Cabaret Martinborough at Pinocchio, June 13th – Emcee
Frolic Lounge Student Showcase, June 21st/22nd – Emcee
 Caburlesque Stage and Screen, August 3rd – Emcee
Le Cabaret at Pinocchio Martinborough, August 23rd – Emcee
Miss Burly-Q and Mz. Burlesque Contest, August 24th – Emcee
UPCOMING – OCTOBER: Web Presence Workshop at New Zealand Burlesque Festival, October 3rd, Aethercon – The Steampunk Convention, October 12th (daytime emcee).
UPCOMING – NOVEMBER: Harem Honeys! Delicious old school burlesque at the Fringe Bar, evening of November 9th.
UPCOMING – DECEMBER: Christmas Caburlesque, December 7th!
2012:
"Burlesque Rainbow" at Wellington Out in the Square queer pride festival, January 21st – Producer
Dr. Sketchy February, "Revenge of the Redheads" – Host/playlist
Burlesque Rocks March 23rd – Emcee
Caburlesque April 7th – Emcee
Dr. Sketchy April, "Steampunk!" – Host/playlist
Caburlesque June 4th – Emcee, in the persona of "Naughty Queen Liz" for the Diamond Jubilee
Frolic Lounge, June 15th/16th, September 15th/16th – Poster design and Emcee
Caburlesque August 4th, October 4th – Emcee
Underground Burlesque, August 17th and 18th – Emcee
Aethercon, October 2012: Steampunk Conference and Ball – Master of Ceremonies
Caburlesque October 6th – Emcee
Frolic Lounge, November 15th and 16th – Emcee
Bare and Back Again: A Burlesque Journey to Middle-Earth! Nov. 30th and Dec. 1 – Producer and emcee.
A Very Merry Caburlesque, December 8th, The Fringe Bar – Emcee
2011:
NZ Burlesque Festival, February – walking for The Dreamstress in her vintage lingerie show
Frolic Lounge – Emcee  – June, September, November
Dr. Sketchy July, "Belle's Beauties,"  Host/playlist
Questions I Get Asked
Where do you get those sequined dresses?
I stalk them. Like the lion stalks the okapi. Except online. TradeMe and eBay are my sources. I'm branching out into making my own, too.
Can you get me burlesque dancers for my event?
I could, but I'd get them by calling Miss La Belle, so why not contact her directly?
Can you emcee my wedding?
I do emcee conferences, balls, and bar and bat mitzvahs – but not weddings. Most wedding emcees are also wedding DJs. Allow me to recommend Crystal Misschief if you want a naughty burlesque flair in your New Zealand wedding emcee. Crystal's voluptuous voice makes her a great choice for voice over work or other events, too.
Your inspiration?
Endless hours curled up around the boom box listening to Dr. Demento, who introduced me to Ruth Wallis; the ever-fresh content and charm of Murray Hill; the brashness of Jonny Porkpie. The vintage clothes I loved from the 80s onwards. And, of course, all those brave beauties on stage.
I want to be in a burlesque show too! What do I do?
Burlesque is having A Moment in New Zealand. Burlesque classes are popping up everywhere, even as the standards of performance are increasing. Start out with this article on Burlesque Advice.  I know of several sets of Wellington based classes that will specifically set you on a performance path: