"Who Will Be The Cupcake Queen of Wellington?" I'll give you a hint: at the A La Mode Photography Studio's Revamp party, it wasn't me. I was pipped to the post by winner Hester's delectable marshmallow frosting. But my entry raised some eyebrows with an important question: is that actually edible?
Turns out that you can now get food coloring pens, edible markers, with which you can draw on fondant. So, for a cupcake competition hosted by a photography studio, I thought I'd do some pin-up-photo themed cupcakes, pushing a pink and black food coloring pen to the limit on white fondant rectangles.
The white fondant "toppers" are perched on top of chocolate-and-rosewater cupcakes with rich swirls of chocolate-and-rosewater frosting. A little pink edible glitter is on them too, and they were served on a tray made of a frame filled with pink pinup photos from history.
You can draw on fondant as well as you can draw in real life. Just three caveats. First, there are no do-overs – what you ink is what you get. Second, the more dry/hard the fondant is, the better. And third, nobody will eat your little fondant pictures, even if you eat part of one in front of them to prove they are indeed edible.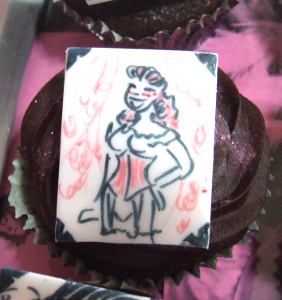 There is a fondant Uncanny Valley. A small fondant item, like a heart or rose, gets eaten, even if it's fluorescent orange. Large fondant ornaments or wrappers are frankly removed and discarded. But a medium-sized fondant topper is a bit too much fondant to eat but manageable enough that people feel weird about throwing it away. Perhaps if I had used more food-like colors, such as brown ink on cream fondant, these cupcake toppers would have seemed tastier.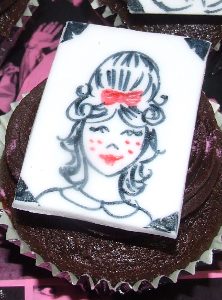 When I left the cupcake contest, children were using the fondant pictures as trading cards.