More fragrance adventures! This Tuesday, I was invited to attend the launch of the Jo Malone fragrance pop-up boutique at Kirkcaldie and Staines here in Wellington. Of course, I went!
They've carved a corner out of the second floor of Kirk's. It's not the the serene sanctuary of the Jo Malone boutique in Auckland, but it is enough room for the full Jo Malone range, and it's next to the cafe to allow time to make fragrance decisions. We were pampered with flutes of bubbles or juice, delicate canapes chosen to offset the fragrances, and the soothing tones of a harpist.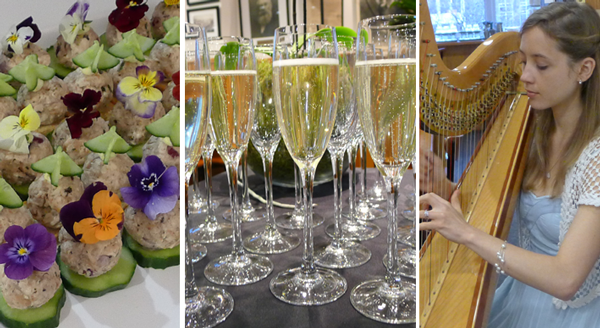 The full Jo Malone range was there -26 fragrances and additional home scents for candles and diffusers.
Based on the crowd, the powers that be might have underestimated Wellington's appetite for Jo Malone. Tuesday night, after two days of operation, they had already sold out of the Cologne Intense of Tuberose Angelica.
In the Jo Malone line, the standard colognes have fewer notes than other lines – the idea is that you combine and layer two or three of the colognes to create your own scent. But I enjoy a simple fragrance with clear notes, and I think they're very wearable on their own, especially in New Zealand.
I asked the Jo Malone acolytes what they would recommend for…
Someone just getting started with fragrance? The clean and crisp international favorite of the line, Lime Basil Mandarin.
Someone femme? "Peony and Blush Suede layered with Wood Sage and Sea Salt."
Someone intense and edgy? One of the Cologne Intense line. These seem to be less for layering – even on the sample slip they were oily and strong. Once sprayed on the skin, these weren't going anywhere.
Blue Agave and Cocoa wasn't in the forefront but it's the sample slip I keep coming back to. Wood Sage and Sea Salt is just made for New Zealand. And there's a green tomato scented candle??
I look forwards to going back to revisit some of these – the pop-up boutique is open until the end of December. Mark Conroy (our scent sommelier from here) also says that there are going to be some other interesting new fragrances launched at Kirk's in the lead up to Christmas.
Thanks to the Jo Malone brand ambassador I have a FABULOUS giveaway for you – a boxed Pomegranate Noir candle.
This is 200 grams of lush, ripe fragrance deliciousness with a 45 hour burn time. I will be selecting the winner at random this Friday night. To be in to win, leave a comment on this post telling me when you would light up this candle. Getting ready for a glam night out? A romantic night in? A decadent party? Telling sad, romantic ghost stories?
The winner will be selected at random from the comments. You can enter until 6 PM Friday the 10th, New Zealand time. This giveaway is only for people with a New Zealand mailing address.
The only problem with the Jo Malone approach emerged later in the evening. I was at a gathering of friends. Someone said, "You smell nice. What perfume are you wearing?" And, after the fragrance layering, the answer was complicated…