The Product: Queenie May Vanishing Cream and Queenie May Cold Cream.
The Challenge: Two nights of emceeing in stage makeup + a busy life had stressed my skin. Could the new vintage-themed skin care line Queenie May successfully remove stage makeup after a burlesque show with the Cold Cream, and soothe my battered hide with the Vanishing Cream?
History Distracts Me: What are cold cream and vanishing cream, anyway? My last memory of cold cream was confidently recommending it for Halloween makeup removal in a Bryn Mawr College bathroom in 1991. And vanishing cream was, for me, tangled up in the same fuzzy romantic realm as lace curtains and bowls of potpourri. To the Internet!
In the dawn of the modern era, when powder was the most a respectable woman ventured, lipstick was required yet unsubtle, and pancake foundation was strange and new, the base color and tone of the complexion were vital to beauty. Vanishing creams and cold creams, soft, fragrant, and emollient, had lots of appeal – so much that they were undermined by their own success, as this historical article describes.
The literature for Queenie May purrs seductively, "Everything about this cream, the jar, the label, the thick inviting cream, suggests that you take time to indulge in a glamorous night time ritual." -fans self- Gosh, Queenie, we just met!
And yet, a jar of vanishing cream in my hand reminded me more of a line from S.J. Perelman in his 1937 classic Strictly from Hunger: "I suddenly detected a stowaway blonde under the bed. Turning a deaf ear to her heartrending entreaties and burning glances, I sent her packing. Then I treated my face to a feast of skin food, buried my head in the pillow and went bye-bye."
All-natural, historical, multi-purpose, AND referenced by S.J. Perelman? This, I had to try.
The Test: Queenie May lauds its lovely packaging. Let us observe: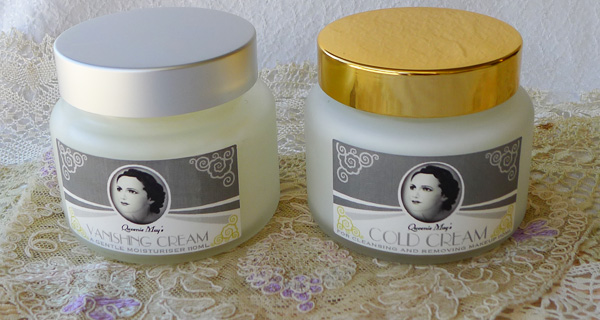 There is more to the Queenie May line than frosted glass jars and pretty labels.  I'm the kind of person who flips a product over and reads the ingredient list. The creams are 100% botanical, built on olive and jojoba oil extracts, glycerine, and Damascus rose oils. With a nod of approval, I finally opened the jars. Inside the Vanishing Cream is tender and fluffy, and the Cold Cream shows us that it's aereated.
Saturday afternoon, between shows, I tried the Vanishing Cream on my dry, tired, sad post-show epidermis. It felt rich, but not unpleasantly so, and it did indeed sink in neatly, leaving me soothed and fresh. The slight gloss it left on my skin may be what is described as "dewy." Four hours later, when I did my stage makeup for a night of emceeing, my makeup came out twice as well as it had the night before. Hm.
Then, close to midnight, after the show, it was time for the Cold Cream to take off that makeup. Armed with cotton pads, I opened the jar. Bubbles! This, too, was aereated, and its agreeable rose scent was stronger. I dipped a finger in and smeared the light, vividly white cream around my eyes. Three swipes with a cotton pad later, the near-geological layers of primer, foundation, and shadow were cleared from one eye. Four cotton pads later, my face was makeup-free, save for mascara, and feeling soft instead of stressed. A night or two later, I tried the Cold Cream on a normal day's makeup, with similarly good results (and going through a similar amount of cotton pads.)
Any negatives? With the Cold Cream, its one shortcoming as a makeup remover is that it isn't great for removing modern waterproof mascaras. And while I like the Vanishing Cream in the classic role of a "night cream", I prefer a lighter pre-makeup moisturizer. Also, I can't stop putting the Vanishing Cream on my hands.
Creams and Oil Cleansing: My skin is naturally oily and prone to breakouts. After trying these oil-based emulsified beauty creams, I braced myself for post-moisturizing zits that…never came.  What alchemy was this? It turns out that natural oils are kind to even difficult skin like mine.  Oil cleansing has made a comeback as a gentle, surprisingly acne-suppressing method of skin care. Sally at Already Pretty praises oil cleansing here and Crunchy Betty describes the essentials of oil cleansing here. And, oooh, look! The Queenie May ingredients – olive and jojoba oil – are among the recommended oil-cleansing oils. So Queenie May cold cream is basically a single-source, user-friendly oil cleanser.
Showgirl Comments and The Final Test: I took the Vanishing Cream jar out for some of the dames before the burlesque show. The pretty frosted jar encouraged us all to play. From the lips of showgirls:
"It really does vanish! So soft!"
"$40 for all that? That's really good." Especially, I noted later, compared to Lush's Vanishing Cream in its black plastic tub at  $42.00.
"Look at that jar. Mmmmm! Everything comes in white plastic pottles nowadays. But packaging does matter!"
There was one last test. Claire Gormly, proprietress of The Vanity Case and creator of the Queenie May creams, had told me, "The idea is to have jars that you're proud to put on your retro dresser, to put some of the glamour back into beauty." Little did she know that I had a glass 1930s dresser set at home. How do the Queenie May jars look in situ?
The Queenie May jars are indubitably swanky with my retro dresser items. For aesthetics, I switched the lids on the Cold Cream and Vanishing Cream jars. The Cold Cream is in the bathroom, where I can dispose of the  post-cold-creaming cotton pads easily. And the Vanishing Cream, the gold lid matching the perfume bottle tops, is tucked on the 1930s crystal dresser tray, waiting for an idle moment.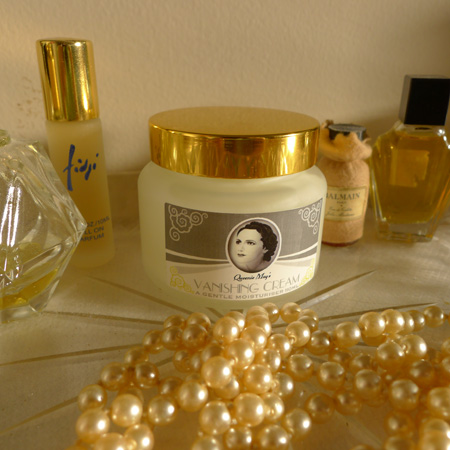 Nicely done, Queenie May! My face is looking forwards to its next feast of skin food. I'm wondering if we can't have travel-sized jars – maybe little metal tins? – for showgirl makeup bags. And a hand cream, please…
Disclaimer: Queenie May provided samples for my review. Believe me, if I'd gotten zits, you'd know about it.