Do you want to see a 100-year progression of waist cinchers and stocking holders from my vintage clothing collection? Of course you do!
The older underwear items were acquired in two fell swoops. One group was acquired by me in the mid-1990s from a Philadelphia stocking wholesaler that was closing down. Along with a tiny Victorian corset and some curious garter belts and bras, I also acquired boxes and boxes of vintage seamed stockings, most of which have, over 20 years, been worn to death. A handful of boxes remain in my collection. The second group (eight corsets and girdles!) was scooped up by my sharp-eyed partner at a costume rental store sale in Palmerston North. "I thought you might be interested," he said. There are lessons here for collectors:
If it's there, buy it.
If you see one of something you're interested in, look and ask for more at the same venue.
It can be worth going back a second time.
Tell your friends and intimates what you collect and ask them to keep an eye out.
I am donating two boxes of pristine 1950s vintage seamed nylon stockings to the silent auction at Save Our Strangelove. This is a fantastic event fundraising for a New Zealand burlesque dancer who was severely ill in the U.S.A., racking up serious medical bills. It's got a star-studded performance line up, plus the sexiest silent auction ever, and is well worth attending, especially if you've never been to a burlesque show before. Here are the items I've donated for the auction:
A vintage-wise friend of mine, who remembers her teachers wearing these nylons, told me, "The way to see if nylons would fit your foot was to wrap the length of the foot around your fist. If the foot length was a match for your fist, it would fit your foot perfectly."
And now, on to our girdle timeline!
Victorian corset and dress bodice, probably from the 1860s:
This black silk Victorian bodice is our starting point, because its wasp waist is going to pursue us to the present day as a compression-attainable goal. (The person who sold it to me at an antique fair told me that it was from Winston Churchill's family.) Next to it is the saddest, tiniest Victorian corset in the world – small, made of the simplest heavy cotton, stiff with stitching, stained with time, missing an eyelet. A poor servant girl's corset, or a tween child's training corset. Here's hoping the wearer lived to outgrow it.
Jumping forwards in time, here are some 1930s-1960s cotton coutil corset/girdles and some elastic girdles: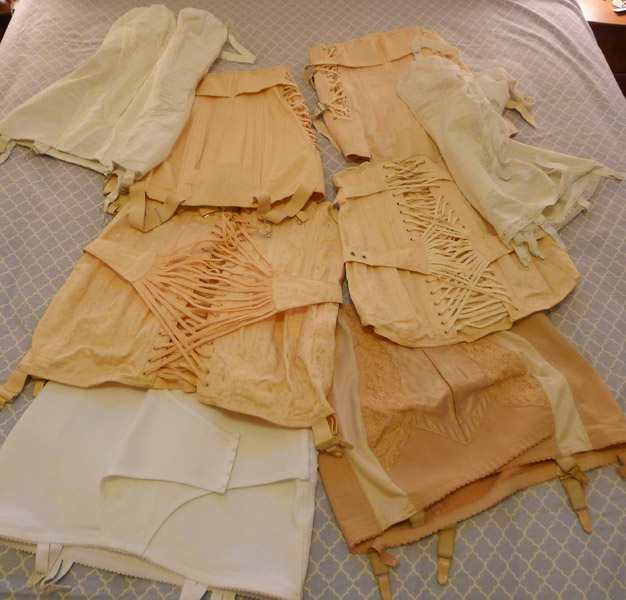 Check out the peach-colored numbers with the lacing. Terrifying, aren't they? The fan lacing seems to be an attempt to allow the wearer to lace herself with greater ease, but I found them harder to wrangle than the Victorian corset. Their cotton fabric doesn't stretch at all, though they do have a few elastic gussets. They fasten with hooks that stay in place ferociously – the busks of Victorian corsets are much easier to undo. The orthopedic pink color is probably an attempt to make them harder to see under the lighter dresses of the time. Most of this batch has found new homes – one or two are available. I'm keeping the broader-beamed fan lacing one! For more on girdles and corsets from this period, the web site Corsetiere.net is a wealth of knowledge.
1950s longline girdle:
I'm not sure when this is from but based on the unusual strap adjusters, I'd say it's a reasonably early one of its kind. Note the zipper.
Longline girdle, mid-20th century: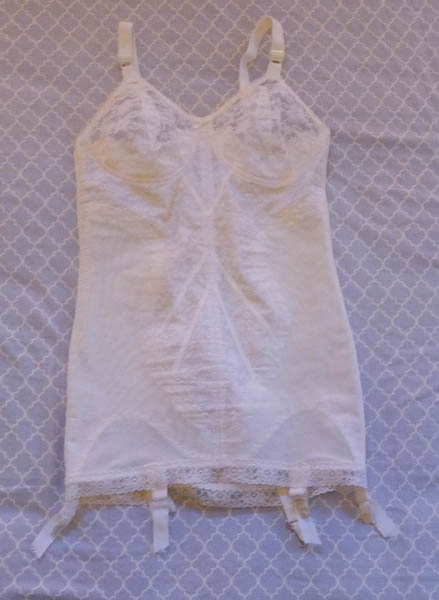 Entirely elastic! No fasteners! Remember that this, or something like it, is the underpinning of many of the 1950s retro-women images that are widely admired.
Open-bottom girdles, mid-20th century: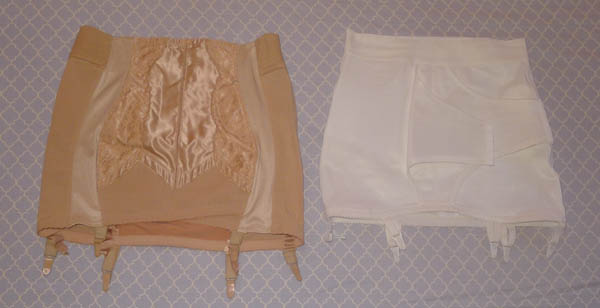 This is an interesting progression. To the left we have a luxurious number. To the 21st century eye, it seems nostalgic in its use of mocha-pink lace and satin, but, as we can see from the earlier girdles and corsets, such fripperies were not applied to many earlier undergarments before the advent of elastic fabrics. Technology is making luxury accessible, here. A discreet zipper and hooks is tucked to one side. To the right is a space-age girdle from the 1960s or early 70s. The panels fasten with hooks on each side. This is a very efficient stomach restrainer.
Garter belts and bras, mid-20th century:
Another interesting progression. This dainty cotton garter belt has a small elastic section here and there. Compare it to the gleeful 1960s/1970s all-stretch turquoise garter belt. And this modest cotton bullet bra is more utilitarian than modern bullet bra reproductions, with a touch of elastic at the back and front – the shoulder straps, cups, and side areas are stiff, fine cotton. In the middle is a lace and satin 1950s bra with a metal hook and eye fastener and, again, very little elastic. The exquisite strapless 1960s bra to the right revels in its lycra.
Which brings us to the end of our hundred years…