I'm in a Terribly House and Garden phase here. And yesterday, I had a real treat; visiting the delicous burlesque dancer Bon Bon Rocher at home, and seeing her burlesque boudoir.
A boudoir…a powder room…a dressing room…a 'retreat' of over-the-top, unapologetic femininity, to one's personal taste. Bon Bon's own words describe the charm of the boudoir. "It's like a little piece of the things you used to see – your mum getting ready at the dressing table in the bedroom, not standing up in the bathroom. I get ready in there before I go out anywhere.  Instead of being "oh god, I have to rush," at a dressing table, I find time to sit and reflect and celebrate being a girl, having such wonderful opportunities. I do everything there, hair, makeup, cleansing."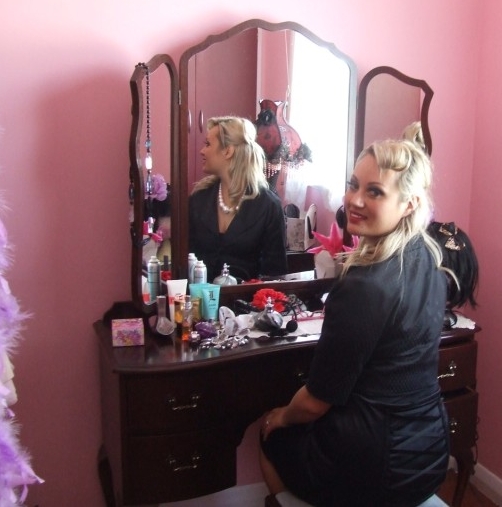 Bon Bon had a very clear vision of what she wanted for a boudoir: a space for her wardrobe, costumes, accessories, and grooming. And, sharing the rest of the house with her partner and teenage son, she took the opportunity to create a space that expressed her femininity. An essential part of this was finding a graceful Queen Anne dressing table, complete with stool and side tables. Bon Bon found the perfect set – in Christchurch, via TradeMe. The room's ample natural light, the petite dressing table, and the wide mirror combine to create an ideal space for getting ready.
Before its femme transformation, the room was one of those awkward small bedrooms featured in older New Zealand houses, a mere 2 meters x 3 meters. Bon Bon and and her partner renovated the room in one weekend. The paint color is Resene Cupid, and her skilled partner affixed the vinyl decal onto the wall. Along with the dressing table and a matching drawer set, a clothing rack and clever use of existing storage complete the space.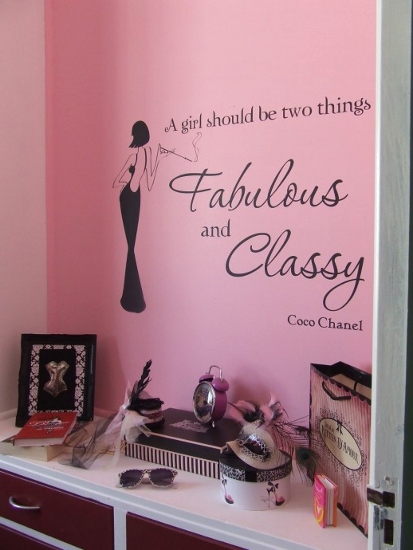 The room is "full of memories and friendship." The lamp from Shady Lady was a cherished Christmas present. "And people gave me lovely things when they heard I was setting up a boudoir – this perfume atomizer is from a friend."
Future plans for the room include some art and, of course, a chandelier!
We lingered in the pretty room; the space was just right for two women to chat, the afternoon light gentle through the lace curtains. Bon Bon reflected, "I think I dress better, more thoughtfully, because I have my boudoir. It's inspiring, and it's easier to organize my clothes and costumes."
Bon Bon will emerge from her rosy retreat, groomed to perfection, to perform at the Glitter Party in Wellington on January 22nd, and she'll have more news soon at her Facebook page.
For more dressing room inspiration, here's a post at Apartment Therapy with eight modern dressing rooms, and another gallery with nine dressing rooms. None of them seem to be having as much fun as BonBon, though!