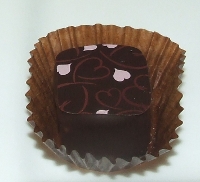 Do you have imaginary businesses? I know I do. One of them would be a chocolate boutique. Making exquisite yet amusing bon-bons. With beautifully designed boxes for the confections, and using El Rey chocolate, and …then I wake up. Oh, I've made chocolates at home. The simple yet messy processes of dipping strawberries and rolling truffles taught me to respect actual chocolatiers. There are two or three excellent ones in Wellington, and I'm so pleased to be able to interview one of my favorites, Jo Coffey of L'Affaire au Chocolat.
I first encountered L'Affaire au Chocolat at the City Market; the fine truffles and varietal chocolate bars made an impression of me. Finally, I made it to the store, where I was charmed, not only by the cozy refinement of the little shop, but by the master chocolatier behind it, Jo Coffey herself. There is both warmth and stainless steel behind the chocolate to make this dream of a business succeed. My purchase of a few saffron truffles one day turned into a conversation – Coffey and I are both aficionados of South American chocolate varietals –  and this interview is the follow up.
The day I went to meet with Coffey in her store, there was a constant stream of customers, saying, "I hear you've got the best hot chocolate in town…" And it's true: she does. Made with simply frothed milk and a ladleful of melted fine dark chocolate, served with a dark chocolate morsel on the side,  it's hot chocolate perfection. The serried ranks of glossy chocolates in the case became depleted as the morning went on, too.  Coffey gave me a peek behind the scenes at her chocolate vats (vats! of chocolate!) and took the time to answer these questions.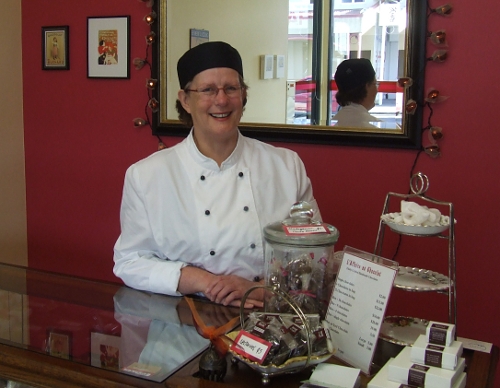 Behind the cut, Coffey remembers sweets for tuppence, describes the men who buy chocolate, and shares with us why French food is suddenly everywhere, again, and how to be a more intelligent chocolate consumer.