Saturday, I was at the intricate costume show Adorn, and you should be, too. It's at The Roxy theater in Miramar here in Wellington, a free event until October 15th.  Saturday was the "soft" opening – the costumers had just finished setting up the exhibit, and were enjoying relaxed conversation with the wide-eyed attendees.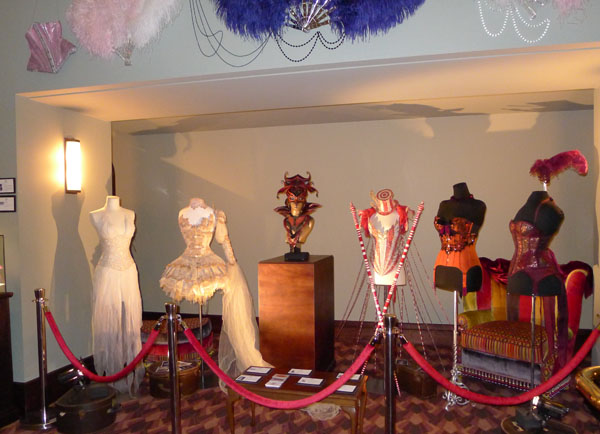 Now that everything is on the internet, there's still power and charm in seeing special clothing and jewelry items up close – their richness, fragility, and craft. I especially enjoyed seeing Claire Prebble's ethereal silver filigree corsets and wearable sculptures, and close-ups of Cathy Tree Harris' work – the details on her corset ensembles are heartbreaking. Flo Foxworthy's voluptuous ostrich-feather fans were a crowd favorite.
Flo Foxworthy said that even though they are well known as costumers, they are all open to commissions from those who won't be wearing their works on stage. The full list of exhibitors is:
Flo Foxworthy – From burlesque and circus costumes to utterly delicious bikinis and lingerie for everyone.
Cathy Tree Harris – World-class corsetry, exquisite fascinators, and more.
Clarie Prebble – Glimmering silver, crystal, and pearl jewelery, from bridal to haute joallerie wearable art. This World of Wearable Arts winner had some lovely silver pieces there for sale.
Nadine Jaggi – Ornitho Leather Creations – Along with incredible masks, she also does chic feathers-carved-from-leather jewelery.
Wellington has a love affair with costumes, and it comes to the fore at two times of year: February, for the zany Sevens sports event, and September, when The World of Wearable Arts show is in town. This show, intelligently, dovetails with World of Wearable Arts.
Adorn was the first outing for my new camera, by the way…hope I did the works justice!