Like many carbon-based life forms, I hate trying to replace favorite bags. Last year, I stumbled across a bag that fit my exacting topological requirements, by a brand named Brahmin. Not only did this bag have a great shape, and inside pockets designed to please, but it was made of a steampunk-looking crocodile-pressed cowhide that promised to outlast me.
I poked around to learn more about Brahmin, and was satisfied that I could feel good about giving them my handbag money. An intelligently managed midsized brand, they court bloggers actively – of all colors, ages, and sizes. They don't overcharge. And while a distinctly feminine brand, they are tech-friendly and their core line has a clean-lined, sturdy aesthetic that's often reserved for men's leather goods.
So when I found out that they were having their biannual "tent sale" two hours away from my New England idyll, my mom and I planned to go. We get a surprising amount of designer sample sales in New Zealand, from our own designers, but I wanted to see one Yankee-style.
We arrived to an industrial parking lot full of tents, with traffic and security staff waving us along. Outside the tent, a local vendor was selling fresh, hot cookies, and we refreshed ourselves before entering the scrum. Inside the tents were vast quantities of fresh handbags.
In case this wasn't enough, a stream of well-set-up Brahmin staffers constantly conveyed fresh boxes of handbags to our gaping maws. Experienced shoppers hovered for the new boxes.
There were bags that are being sold currently on the web site, bags from last winter, the winter before, and bags of total mystery. Colored oddments – puce! sandy mustard! eggplant! – were blended with standard reds, blacks, and browns, and with metallics. Privately, I was disappointed that there were no bags in the thrilling teal "Peacock" color from last winter.  Not that I was stalking them, or anything. I had to keep tearing myself away from the brown crocodile-look handbags that Brahmin does so very well. Many of the leather satchels were heavy, more than I prefer for a bag. There were tables of accessories. Keychains seemed overpriced, but leather picture frames were an excellent deal. We all have photos that deserve a frame of fuschia leather.
This handbag jungle had its laws. If two of us converged on the same bag at the same time, the first comer had dibs. I was charmed when, twice, the bag's claimant offered to find me amid the scrum if the bag didn't make their cut.
The handbag-shopping sound and fury was a bit much for my mom, who slipped outside after choosing one item. "I almost passed out!" I found her chatting amiably with one of the other shoppers, helping her choose between a red and a metallic bag. Many buyers tripped away with two or three giant grey shopping bags. Others slipped off with one modestly burdened bag. The more shopping bags they were carrying, the less they wanted to be photographed! To defend these super-shoppers, they were often buying gifts for friends and family. The bags were deeply discounted, 50% to 40% of their normal price – but still spendy. I wished I had that gift budget. Also, these bags don't come with the Brahmin registration card, which means that Brahmin won't repair the bags for free.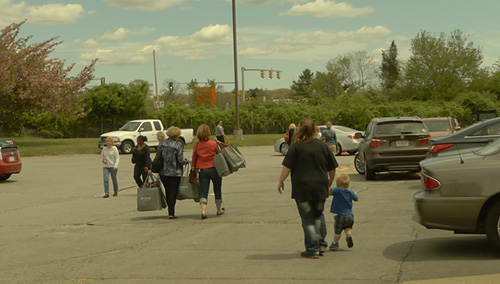 Are three handbags between two women a "haul"? I don't think so. My mother's purchase grew on her. She likes a bag with compartments and stumbled upon a current-season Mojito Crossbody in Pecan. "Look at this pocket. And this one. It's perfect for travel. Not that I travel. You can adjust the straps? How clever! I love the brown. It goes with everything."
As for my bags, they seem to come from archives, or a department-store exclusive, or perhaps a parallel universe. One bag is of sturdy, moody, greenish-bronze-leopard leather.  Nobody understands this bag but me. We'll walk together in the rain. I will shelter it under my arm, tenderly – it fits so perfectly into the curve of my waist – and slide haiku and dried fern leaves into its side pocket.
The other bag is an curiously soft black leather shoulder bag, a wardrobe workhorse. It's the little things that add up, the brass fittings and the quality black stitching, actual pockets behind the diagonal zippers. It's like that OK person at work who blossoms into a real friend.
Both of these bags have been taken for an urban test drive and passed with flying colors. Next post: New York!