This past Saturday, more than twenty-five of us wedged ourselves into a room in downtown Wellington. Miss Tittle Tattle had come to visit Wellington for a burlesque performance and for the day after, she had organized a Debonaire Doos vintage hair and makeup workshop. Because Debonaire Doos often does the hair and makeup for a popular pin-up photographer, she's an expert at doing retro transformations – often on up to 8 women at a time. We showed up with plain faces, slightly grimy hair (to help vintage styles take hold), and our tiny makeup satchels.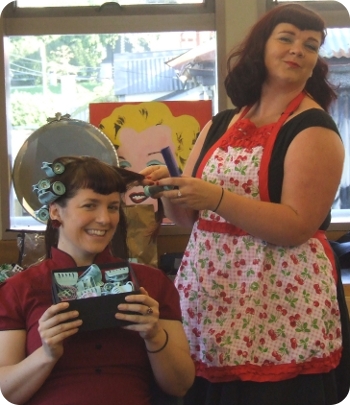 "When  come to Wellington, it's like a holiday!" Miss Tittle Tattle purred. I find this hard to believe, because she put herself through her paces in this very intense demonstration. In her delicate, musical voice,  she told us what we needed to know about creating a "vintage look" with hair and makeup, and demonstrated on models Miss La Belle (pictured) and Kelly. The "vintage look"  is the classic face we see in images of the 40s and 50s: the smooth, perfect face with vivid lips and cleanly defined brows and eyes.  Miss Tittle Tattle shared with us the tools for a vintage hair set, the vintage face aesthetic, and guidelines on colors and makeup application, demonstrating on her lovely models all the while. We asked all sorts of questions. I'm not going to give away all her wisdom, but a few of the tidbits included:
* If you're in Wellington and you want the vintage-curl-friendly "Middy" haircut, go to Danny at the Powder Room salon.
* Put down the hair straightener and walk away from it. You can curl with it, but you shouldn't, if you want a vintage look. Use steam rollers instead – these lift the roots of your hair and set the curl correctly down to the very tips of your hair.
* When you're ready to undo a vintage set, take the top curlers out first, handling the hair gently. Then undo the lower curlers.
* Maybelline Eye Studio gel liner is great for cats' eyes, and affordable too.
* Getting the correct cat-eye liner look is challenging, and takes practice. But "the first time you get your cats' eye liner right feels fantastic. It's like the first time you tassel twirl!"
We all know about the multiplicity of vintage-look videos on YouTube by now, and they are very helpful. Still, there's nothing like being there, especially for kinesthetic learning, live in three dimensions. For me, the two best things to see in person were how you brush your hair after you've taken it out of the set to turn it into your smooth, finished vintage style, and how to do those  notoriously challenging cats'-eye lined eyes. We had some play time of our own after the hair and makeup demonstrations. I focused on my face, and here are the before and after looks:
Notice how the strong cat's-eye liner and mascara makes my eye asymmetry less noticeable (if you didn't notice it before in Photo #1, you'll see it now that I've mentioned it). And the red lips provide contrast to my green eyes.  Craziest of all, I did those cat's eyes myself, in a tiny hand mirror, after Miss Tittle Tattle's instructions. It's the first time I've ever gotten it right!  Well, "right" if the value of "right" = "Amy Winehouse, pre-bender."
Afterwards, I walked down the street with a friend, both of us still percolating with enthusiasm after the workshop. "I want her to come back and do a six-week course!" my friend enthused. "Maybe if you have a web cam, you could get a consultation with her on Skype?" Then, we were distracted by hats. But that's another story.