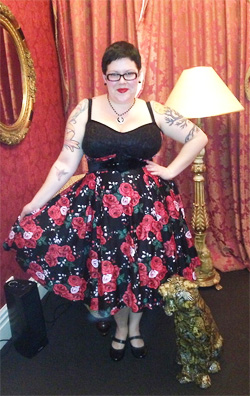 "Best dressed" lists can seem remote and unreal. But Wellingtonian Cara Hill, recipient of two best dressed accolades in 2012 and 2013, makes being beautifully dressed sound fun and accessible. Her striking style is just one facet of her expressing herself to the fullest. I talked with Cara about her style journey, being body positive, the practical side of being well dressed, and hating alterations but loving fashion risks.
We've all seen you darting around town, the strikingly lovely brunette with the ravishing tattoos and fabulous outfits. But, tell us…who is Cara Hill?

Hmmmm, isn't that always the toughest question? Let's see … Cara Hill is a Canadian expat who has lived in NZ for almost 4 years now. I love the theatre and therefore have spent a big chunk of my career working in one. I'm married to the love of my life with whom I have more fun than I ever thought possible. I love tattoos, books, movies, body positivity and feminism. And I love, LOVE pretty clothes!
 And you're also a published author, of the book Supernatural Winnipeg, which was quite successful in Canada.  I mention it because I think there are lots of misconceptions about women who, as you say, love pretty clothes – that we're insubstantial or unintelligent —
True, good point. Although, it is a travel guide to haunted places, so that might discredit me!  I kid.
 (five minutes of digression talking about Bigfoot and taniwhas)
We should probably talk about paranormal stuff sometime, but we're here today to talk about your magnificent sense of style. You run a highly popular style tumblr, ILikePrettyClothes.tumblr.com and you were also voted as Best Dressed in Wellington 2012 last September by the readers of Wellington's Capital Times. AND you just got cited in Fishhead Magazine this month as one of Wellington's best dressed.
It's a bit overwhelming actually, the best dressed things.
What's your personal style story?
I had a sort of goth style when I was a teenager, and then went for years without a defined style. I always loved shopping, but I don't think I was very good at it until recently. I was more of an impulse shopper, buying things on a whim, without any particular aesthetic. I was all over the place! And if you can believe it, I never wore dresses. It wasn't until we moved to New Zealand and a whole bunch of things happened at once.
I started on my own body positivity journey; I had a sort of epiphany that I did not want to waste another moment mourning the fact that I was not a size 2 and likely never would be and decided then and there to start being nicer to myself and learning to accept myself with the help of a bunch of body positive blogs and the like …
I discovered fatshion or plus size fashion blogs, which taught me that we can wear whatever we want no matter what size we are, we just have to feel good in it …
And I finally found the nerve to try a style that I had always admired but had always assumed would never work for me: retro/rockabilly/vintage inspired (whatever you want to call it). I ordered a dress from Pinup Girl Clothing, fell in love and have been building my wardrobe ever since. That was coincidentally the first clothing item I had ever ordered online too, so it opened a whole kettle of fish – that was three years ago almost to the day.
Did NZ style influence you at all? Especially as an expat?
I actually don't feel NZ inspired my fashion choices, it just gave me the platform on which I felt comfortable to try new things.
Did the blogs lead you to your clothing sources and give you style ideas for yourself?
The blogs did give me ideas, definitely, and introduce me to new stores. And they continue to.    I should mention that most of the blogs I follow are on Tumblr as well.
I want to talk about body positivity with you, but I feel tongue tied, because I know you had a not-great experience with one interview [referring to a previous interview in The Dominion Post].
Ha ha, true, I did. But don't worry, ask away. That journalist was rushed and didn't get it; she didn't take the time to get it, if you know what I mean. She didn't seem ready to accept that not all plus size people are all, 'poor me'.
 Yes, there's now a canon of plus size beauty! And you do seem to have its luscious signifiers – full lips, smooth skin, a distinct hourglass shape, and deeply tinted "signature" hair. I'm pretty curvy at the moment and I feel like I fall short of those plus-size beauty signifiers!  Which is a whole other set of ironies…
Thank you! (But my skin is going through a horrible phase at the moment – not smooth at all! It thinks its 16 again!!) And I don't think you fall short of anything.
Mutual admiration society moment! But yeah, twenty or even ten years ago, would we be here telling each other how gorgeous we are? That's definitely one of the upsides of the body positivity movement. You've got an icon on your Tumblr about it…Â  "This Journal is Body Positive." What does that mean for you?
It means that I think all people deserve to feel good about the bodies they're in. That NO ONE has the right to make anyone feel less than for their shape, size, colour, hair, features, etc. That I aim to not participate in judgement of that sort, directed either at myself or anyone else. That the body policing our society actively engages in and encourages will not be tolerated or perpetuated in my little corner of the internet.
 And your blog does feature people of many sizes and styles, larger and smaller, tattooed and tattoo free, as your way of creating this virtual space for all bodies.
Exactly. I hope so, anyway. I do tend to feature more larger bodies though, as I feel they are underrepresented generally, although I don't post them exclusively.
I forgot to ask you about your tattoos!
Needless to say, I love tattoos. I am always thinking about my next one, even though I have a very low pain threshold and find the act of getting them done agonizing. My most recent one is a beautiful, photorealistic rose on my left calf. I love it! I think it is my favourite of the 11 I currently have.
I love the way you have a signature pose on the blog -Â Â Â 
I haven't thought of it that way before. The pose is kind of accidental! I have just always been really awkward in front of cameras and have no idea how to pose or change it up each time or anything. I feel silly – even after all these years. The only thing that felt comfortable was the hands on hips, so it stuck. And yeah, I guess it does help to see the changes each day!
Video created by Cara's friend Alanna, reused with Cara's permission.
Some people look at the very well dressed and say "that's got to be expensive." I look at them and I think, "Somebody knows how to do laundry." Can we talk about the practical side of dressing distinctively, budgeting and laundry and storage? All those petticoats!
Sure! Believe it or not, I am rather low maintenance when it comes to clothing care.  I throw everything in the washing machine – in cold water only – and then hang to dry. In terms of storage, the wardrobe in our bedroom is big and holds all of my clothes and (my husband's). But the petticoats have their own wardrobe in our second bedroom, since they take up a lot of room.
Do you "wear with care"? "I might spoil it" is another reason people get clothes-shy.
Yeah, I totally do things like that. Also, I wear a lot of prints, so if you do spill, no one can tell! And I rarely wear white, so hard to keep clean.
Once or twice you've mentioned clothing budgets. And one of my favorite style bloggers admits freely that yeah, clothing has more of a place in her budget than, say, travel.
My husband and I have built a shopping budget into our household budget. It's like an allowance, we both get the same amount, and it is the bottom end of the priority list, after all bills, rent, food, fun, and savings are taken care of.  It is money just for us, individually, to spend on whatever we want.
Sometimes I have to save it up for a couple of pay periods if I want to make a bigger purchase, and that is so hard!
I notice that you've had some style changes lately – you're mixing up your silhouettes and you've discovered some great jewelry.
Thanks! I felt like I was becoming too comfortable in one style, the full skirt, so have started to add more body hugging styles to my wardrobe.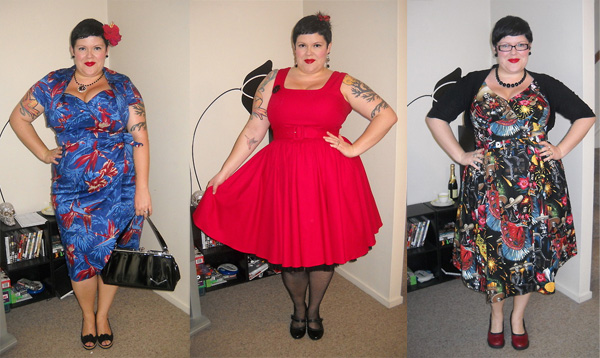 And a lot of that is from independent sources.
Except for when I shop at ASOS …I am so addicted to ASOS.    Free shipping. Lots of choice. Great sales.
How do you sift through such a huge site to make decisions?
I stick to the Curve section. For clothes anyway. Only the sale section for anything else.  However, I love the selection in their Curve line, and it is expanding all the time.
 What are your thoughts on ordering up a size and getting tailoring if required?
It's more of a hassle then I would generally go for. I like things to fit as soon as they arrive.  I will let some things slide if they're a bit big – like skirts, for instance – if I can wear a belt with them I won't sweat it.  But I really don't want to faff around with tailoring things, tailors are so expensive in this country!  I have wanted to tailor a few things, but always balked at the price. Often a good chunk of the price of the thing itself!  However, I know some people like to/need to do that to ensure a perfect fit, and I think it's cool if they want to do that.
Do you have any advice for people seeking to be their own best dressed selves?
Take chances on things. If it's a style you've never tried but you've always wanted to, take the plunge. You will literally never know until you try. And … when shopping online, know your bust, waist and hip measurements and order according to the size chart, not the number size you think you should get. 9/10 times, you will be successful with your purchase if you do it that way. It's always a risk when ordering online, particularly if for the first time from a certain company, but knowing your measurements cuts the risk by far.
Do you get people saying to you, "I wish I could dress like you, but…" and then they list wistful excuses?
Sometimes. But excuses are just that. As I mentioned, I truly believe anyone can wear whatever they want, as long as they feel good in it. I hate those rules, like fat people shouldn't wear stripes, or you shouldn't wear leggings as pants, etc, etc. Wear whatever you want, and everyone else should just shut up about it. Whether you like what someone is wearing or think they look bad in it doesn't matter, your opinion is just that and should be kept to yourself. I personally don't like mullets, but I would never tell someone they should cut their hair or that they looked bad because of it.
So we should all just BRING IT sartorially and make the universe more interesting?
EXACTLY!!!    I'm also not one to miss out on a great piece because I don't know where I'd wear it. I wear sequined skirts and full dresses with petticoats to work. I'll wear anything anywhere.
Thank you so much, Cara. Can I ask you for a list of some of your favourite blogs, Tumblrs, and vendors?
Clothes/Accessories:
Blogs:
More Interviews with Cara Hill: