This October, I went to the New Zealand Burlesque Festival. I spent most of my time enjoying the events, performances, workshops, and vendors. Sunday night, for the Burlesque Mixer, I got my camera out to capture some of the event's style. With the holiday party season coming up, these photos are great examples of successful classy-yet-sexy evening wear for men and women.
Fashion magazines layer item upon item into "evening out" ensembles. And Wellington, the same week as the festival, was full of World of Wearable Art lady visitors out on an urban spree. You could pick out the out of towners by their big vivid bags, colorful necklaces, freshly coiffed hair, and other accessories. Bless! The burlesque performers and lovers, in contrast, seemed to have followed the old dictum of getting dressed and then removing an accessory to avoid overdoing it.
I didn't notice a single pair of fishnet stockings or seamed stockings all evening. Note in the photos that jewelry and bags are minimal, throats and arms curve unhindered, shoes have clean lines. The clothes fitted, and undergarments were on the job. Some people wore cotton retro dresses on the more casual side of cocktail, and others wore full evening dress. There were many items with one special standout – one guy wore silver leather sneakers, some men and women had vivid pink or blue hair. And when I was editing these pictures, I only had to tone down one shiny forehead: women were clean and powdered and men were immaculate.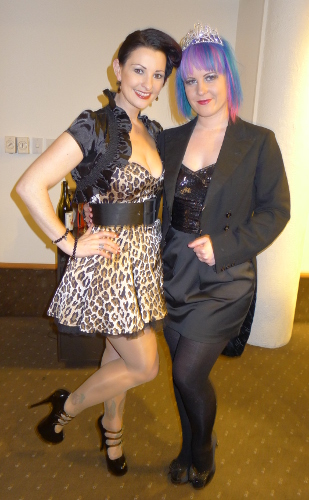 Bonita Danger Doll (left) and Queen of the Festival Ruby Ruination (right). What I like about each of them is that they've each got one complex visual item – Bonita's leopard dress, Ruby's multicolored hair topped with her tiara – and everything else is very simple.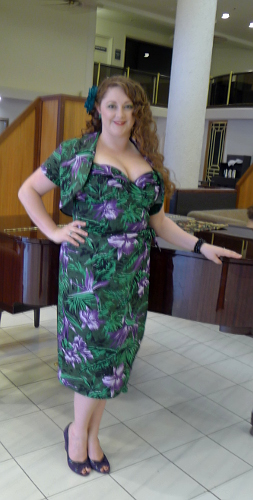 Salacious Sugar shows us the value of perfect, perfect fit and unusual colors.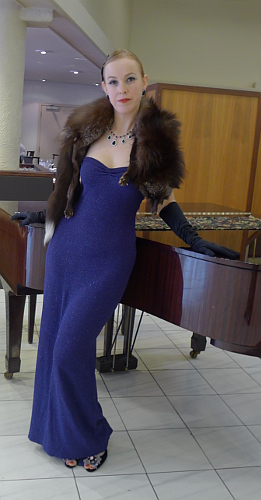 Scarlett Delight has brought in a vintage accessory seamlessly. I also like the fluid drape of her dress – far more flattering than the stiff taffeta lampshades that endure in formal wear.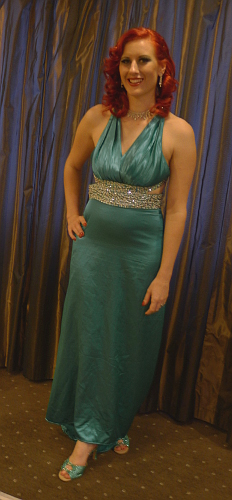 Not going to lie: satin is a difficult fabric to wear. MisRed Delicious, one of the core festival organizers, makes it work with, again, distinguished fit.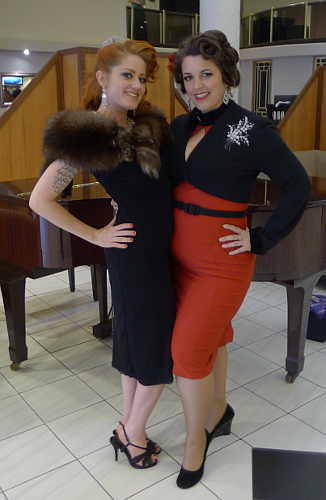 Two evening classics – an LBD and black-and-red- are refreshed by Rachel Rouge and Miss La Belle. Vintage accessories add light and texture. They both have structured and complex hair, and Rachel's paler makeup is a fresh contrast against the dress.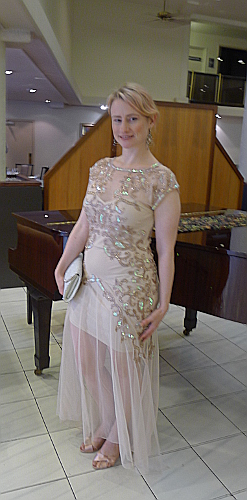 Sometimes evening is the time to try a trend – Honey Suckle's blonde-and-pink hair sets off her blush ensemble. Her dress has a lot going on, so her hair and accessories stay simple. And there's pale makeup again.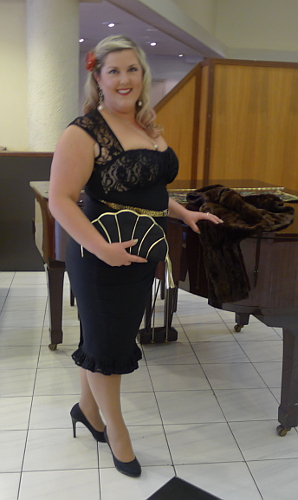 Another black dress ensemble that has me admiring the sensuous, balanced revealed flesh. It sounds like I'm about to pounce on D'Licia Minx, doesn't it? But these proportions are the definition of tastefully sexy – she has the 40% ratio just right.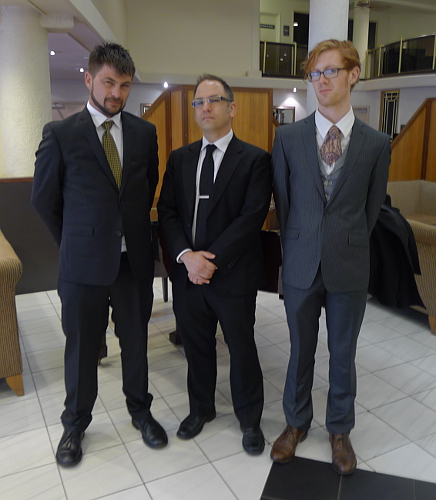 Sharp dressed men. Mmmm hmmm. Note how our redheaded friend has chosen lighter garments and shoes.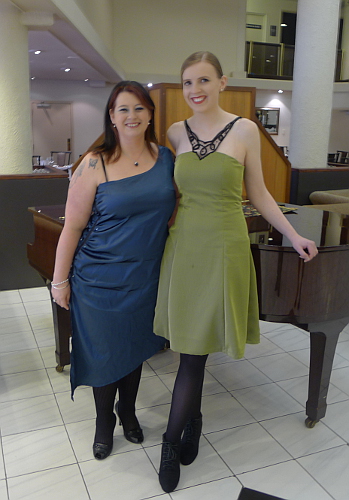 Flic Caracou and her friend interpret two contemporary evening frocks the same way, with dark shoes and stockings. It's more modest, so if you're a bit shy, take note.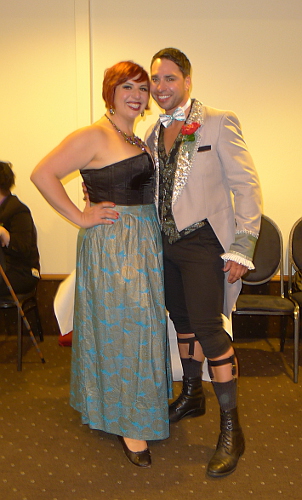 Two of the stars of the weekend, Frenchie Kiss and Jett Adore. Jett is bringing the quirky circus to town – you can tell he's someone special who also has a sense of humor. And why does Frenchie look so very good? Apart from that million-watt smile, immaculate grooming and quality fabrics add to her aura of perfection.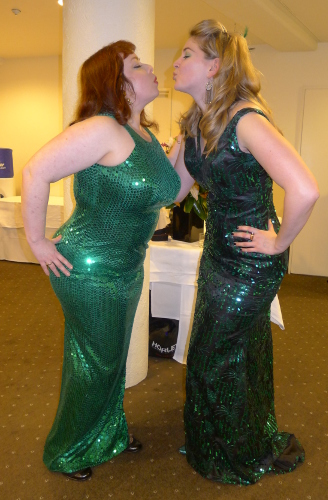 What happens when two women – me and The Velvet Whip – wear green sequins? We admire each other's excellent taste, of course.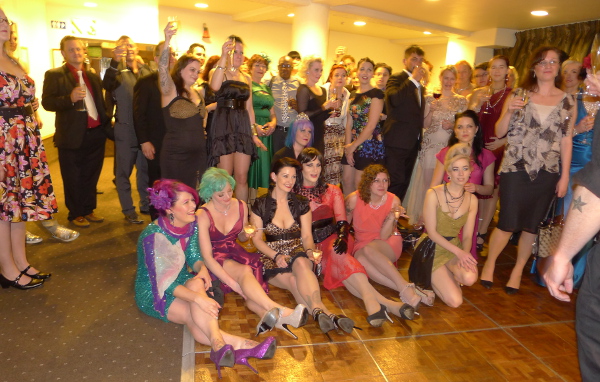 A whole lot of party happened upstairs! This group shot happened in the middle of the festivities. By the end of the evening, everyone who came in stilettos was sitting on the floor. What stands out in this picture? Vivid hair, lighter frocks, shiny accessories and fabrics, and gray suiting.