Happy May Day – the day that makes alumnae of Bryn Mawr College everywhere rather wistful for the campus' semi-Elizabethan, semi-pagan festivities. Living in New Zealand, on the rare occasions when I am asked where I went to university, the school's name draws a double take. Despite the Welsh name, Bryn Mawr College is a storied, stony university outside of Philadelphia, one of the Seven Sisters all-women universities. When I went there, it was a quirky feminist university with strong sciences and the problems and politics of many smaller schools. All of us emerged with strong opinions about the place, influenced down to our bones and vocal cords. To this day, many of us speak with a lightly clipped tone.
Aesthetically, the history-steeped campus gave me a lifelong fondness for Arts and Crafts architecture, an interest in the 1930s and in vintage scientific art, and a soft spot for a flowing romantic aesthetic that, today, is conveniently called "steampunk". And…what about Bryn Mawr style?
There's a new book out, Seven Sisters Style, that's meant to be a female-focused version of Take Ivy. I don't have my copy yet, and I promise you a review when I get it, but all the advance photos seem to be from Smith and Vassar. Possibly because Bryn Mawr has always been a rumpled sort of school.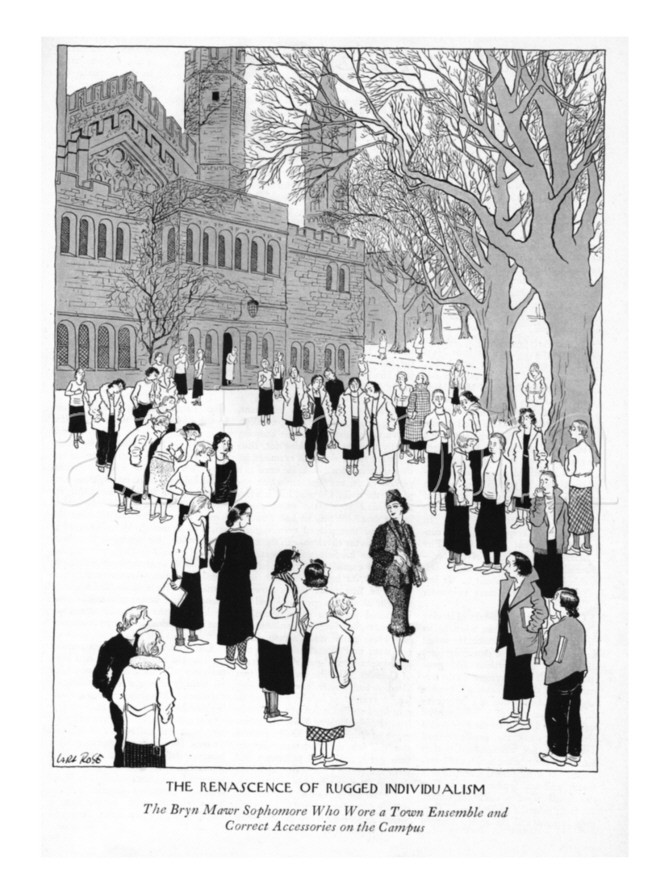 For a peek at vintage BMC without having an alumni magazine in front of you, the Tumblr Vintage Bryn Mawr is all that. And Hepburn's Closet is the current Bryn Mawr College style magazine – I particularly like the sepia-and-vintage-flavored Winter 2013 issue.
The way I remember it, with BMC style, what was important was how you looked from the neck up.  From the neck down, you could be in the black of the academic robes, the white of May Day dresses, or forgettable garb for everyday classes and your shift in the dining hall, but your cabeza was always the same. This began immediately freshman week with your photo snapped at registration and included in the Class Of book, known on the street as "the pig book." Somehow everyone knew it was called the pig book, or that the guys at X or Y non-Haverford college nearby called it that, but nobody actually used the term. These photos live forever in your college file and make a final poignant appearance in the alumni magazine when you die.
In the 90s, piercings were admired and hair was an experimental subject – cut off, shaved off, occasionally tinted with Manic Panic back when this was actually unusual. I preferred having long hair and I slipped off campus for trims two or three times a year. Once a year, for Hell Week, everyone would apply vamp makeup. Afterwards, I'd wind up helping sophomores remove the unaccustomed cosmetics.
Once you had decided on your hair and donned a leather jacket, a pair of cool boots, and a witty T-shirt, clothes were mostly secondary.  A few of us with romantic flair wore sweeping cloaks in the winter and Indian cotton prints on warmer days. Except for a few bodysuits and a dress or two, I dressed like a crumpled origami boulder, picking up bits at rich people's thrift stores, and trying to have enough quarters to do laundry. I still feel guilty about sneaking clothes out of the piles and piles and PILES of clothes left for charity in the hallways at the end of the year. We weren't supposed to touch them. They were supposed to be donated somewhere. But they were so much, so many, and the piles never seemed diminished when I crept away with two or three things.
Katherine Hepburn? For all that she is the school's anointed Retro Style Icon, I relate more to E. B. White's adoring essay about how he feels having married a Bryn Mawr graduate. Which you should read immediately.
As deeply pleased as I am to have the Wissahickon schist fortresses of Bryn Mawr's campus in my history, as close as I still feel to my BMC friends and Back Smoker sisters, the classes of the 1990s are very dispersed today. Wistful as I am on May Day, that feels right. It is our calling to take our uniquely practical fire out into the world. To have adventures, make changes, and work on this planet.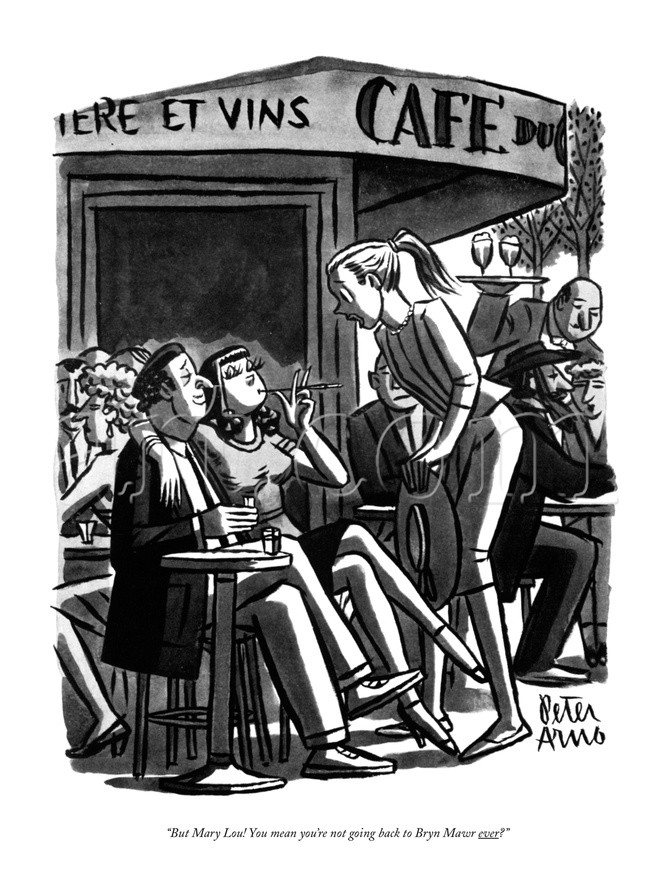 I leave you with this enchanting makeup tutorial that reminds me of the blue-tiled bathrooms in the Merion dormitory. It's labeled as "parody" but, trust me, this is how it's done, women of the consortium, for making offerings to Athena.