I was looking at summer shoes to fill a wardrobe gap or two when I uncovered The Case Of The International Shoe Clones, or, Mysterious Isabella.
Mid-height heels and wedges, I like them. And I thought the shoes by a brand called Miz Mooz were eminently fanciable. Some web research showed that these shoes are much beloved by USA style bloggers. Here in NZ, I sighed wistfully.  A few particular favorites stuck in my mind. So when I saw the shoes in real life, I did a double-take. Except they weren't branded as Miz Mooz, and I wasn't in the USA. Mysterious shoe clones had invaded New Zealand!
Clone of the Miz Mooz Lyla wedge:
And more clones of the Miz Mooz Salima shoe: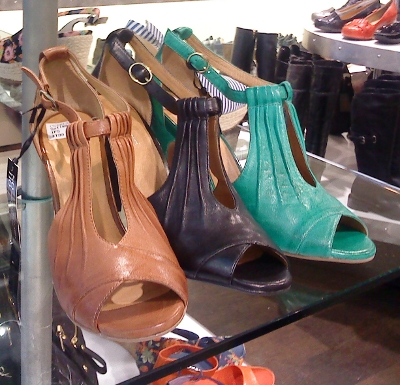 There may have been other clones in the display.
But these were the ones that struck me.
In New Zealand, these shoes are being sold under the brand name Isabella Anselmi. Which is a mystery brand with a range of different styles and no independent web site. There is, ostensibly, some manufacturing in Australia. Curiouser and curiouser! Especially because Miz Mooz says their shoes are based on their designs, and they do indeed have a strong distinctive look.
Having held them in my hands, poked and prodded them and felt their materials, I happily vouch that these are good quality, comfortable shoes. They are also being sold new at what I consider a reasonable NZ markup compared to their new USA pricing – the mystery 25% extra cost (discussed in an earlier post here) isn't being applied.  The difference is that in the USA, they are lavished with clever marketing, sent out to bloggers, and discussed on forums. Here, they are stealth branded and have to speak for themselves.
Preparing this post, I mentioned the International Shoe Clones to a few people, and they brought out their own stories. The shirt they found at a modest midrange store in New Zealand that they later saw being sold for 300 pounds in London. The web site based in China that was selling the OTHER Nikes.  "The life of a shoe is an exciting one!" says Miz Mooz. And the paths that garments take from the factories of Asia to Western consumers are strange and convoluted.
I don't think anybody's going to send me any shoes to review after this post…