Why did it take me until this month to hear the phrase "vintage and rockabilly lifestyle"?
At first, I was grumpy. "How can an aesthetic be a lifestyle?" Then I looked around my house.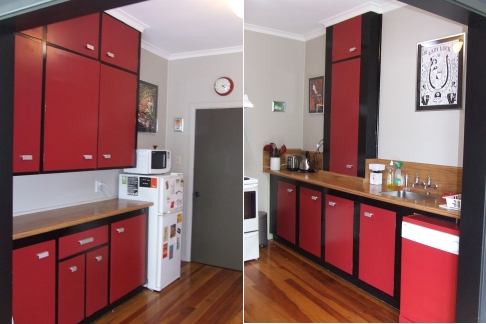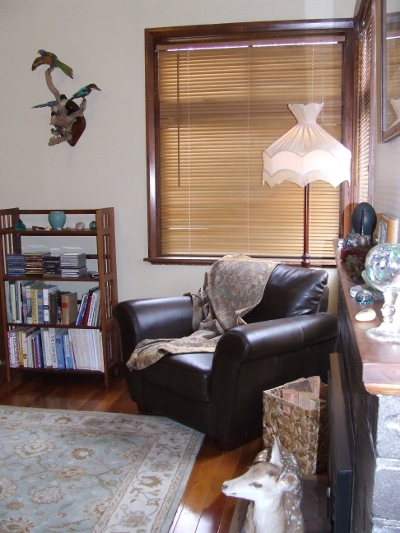 Er. If a "vintage lifestyle" is about the aesthetic, the look, the stuff, I am guilty as charged. So, what does it mean to love vintage things but be impatient for the future?
(By the way, these pictures don't even show the leopard-print sheets. Or the art-deco light fixtures. Or the rusted hand-forged coat hooks I rescued from a junk shop in Auckland, soaked in oil for three weeks, and lovingly hand-sanded. Or the atomic barkcloth curtains that I made with the fabric I ordered from the U.S. for a song (this stuff, with a blue background). I list these things and I think, "Perhaps I could have been saner?" Oh well, moving on.)
The other day in a slip of the tongue I said, "Now that we all live in the 22nd century," then I realized I wished it was true. I like the Internet, eating food from around the world, being huffily offended at the least jot of racism, and women with science careers. You know that it's possible to update a Twitter feed using brainwaves alone, right?  How cool is that? And I eagerly anticipate stem cell medical advances and the new ceramics-based electronics.
But just as Western culture took 75 years to fully assimilate the impact of industrialization from 1850 to the 1920s, I think we're not done with modernism and its changes just yet. The 1990s, you may recall, were all about the cyber and the techno and the virtual, glossy Matrix-style coats, rubber fetish wear. We were chafing at the bit to start the future. Then 9/11 happened, and in the U.S.A., people looked backwards. Cupcakes, aprons, vintage Atari games, That 70s Show. Europe soon jumped on the bandwagon ("Ostalgie" in Germany, the U.K. going retro too) and it trickled to the Southern hemisphere. We're still unpacking both the retro suitcase we turned back to (which did have layers and layers of cool things in it) and our massive ambivalence about actually having started the future.
For myself, I'm aware that the main space in my abode, my living room, stylistically exiles the Cold War period. As a young teenager I had nightmares about Chernobyl and nuclear disaster – and the space where I spend many hours leaps from Art Deco to 2001, as if the years when we all lived in nuclear terror didn't exist. But from my non-nuclear bunker, I can contemplate peak oil, global warming, apocalyptic science fiction, and social flux, and take comfort from cupcakes. And let's face it: if I had Aeon Flux's cheekbones instead of cupid's-bow lips and an hourglass figure, my personal style would be less retro.
Judge for yourself! There is a mind-boggling array of blogs combining housewifery and "vintage lifestyle" content.  The blogroll here at B. Vikki Vintage is a good cross section.
A vintage lifestyle magazine in South Africa, for a change.
Thinky thoughts on vintage lifestyle advantages.
Retro-futurism: the past's perspectives on the future. Paleofuture Blog is a treasure trove of this madness.
If you're in Wellington, NZ, this month's Nerdnite, on Monday the 19th, is exceptionally interesting. A speaker is discussing Steampunk Digital Humanities, "using new digital tools to reinterpret and visualise traditional data."
And, finally, long-term retro aficionado artist Robert Crumb's A Short History of America. So much nostalgia…and this was drawn in 1979. "What next?" as the last panel asks. Crumb himself did an addendum in 1989.