Back from my trip! With some observations about Australian style seen through the lens of Sydney.
Aussie fashion was in full force due to the combination of spring and the Melbourne Cup (see the apotheosis of wee-hats-and-dresses racing style here and here.) While I was in Sydney, I took the chance to check out a Leona Edmiston boutique. When I go overseas,  I try to check out things I've liked online, to see if they're really any good. In person, the retro-flavored dresses live up to their online promise. The designer favors a polyester fabric, but it's premium and feels like silk. The garments' construction is as good as the dresses from Diane Von Furstenberg, which I also checked out while I was there. And they have crystal bowls of Toblerone on the counter at their boutiques.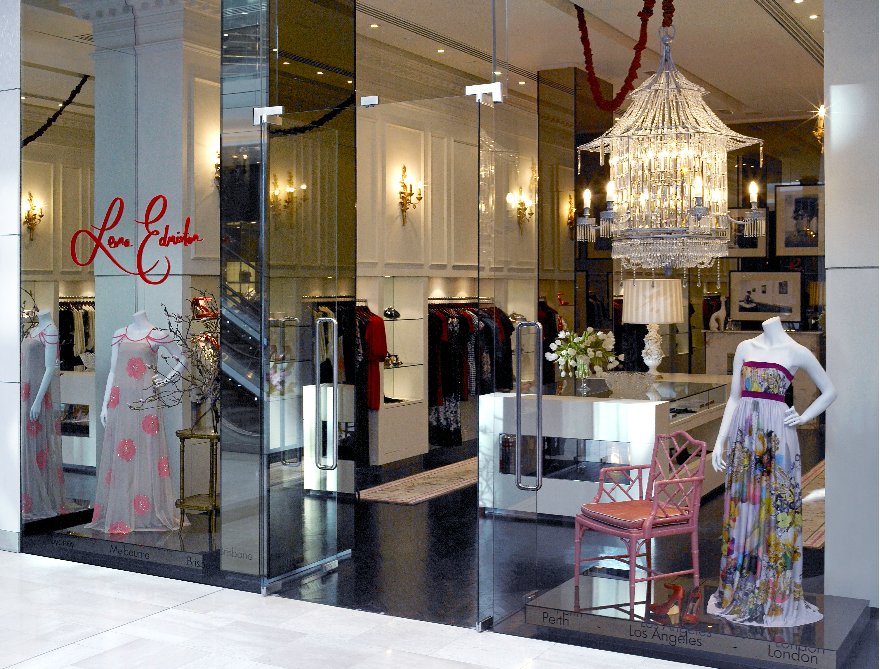 Street style was…average. Perhaps because Sydney beauty is not about dressing well so much as being bikini-ready with swathes of long hair. I wasn't blown away as I was walking around, not in the central city nor in hipster Newtown. But give Sydneysiders a special occasion and an air-conditioned venue and they bring it. I went to a burlesque evening, Jitterbug Club, and every man, woman, and person in gender transition there was dressed and groomed to the nines. I went a little casual, and I regretted it.
One exception to the unremarkable street style was maxi dresses. Everyone in Sydney is wearing fluid, knit-fabric maxi dresses. Young women, older women, the occasional man. They are worn very simply, with flat shoes and few accessories. Ezibuy has a bunch at a range of prices, but they're also a good, easy sewing project. Some ladies added a retro twist with a big 7os hat and sunglasses, or bright lips and a long pearl or tassel necklace.
In Australia, I admired pretty dresses. But…I spent my money on skin care items. Because there are some really excellent ones coming out of Australia. NZ skin care products are fantastic, but I haven't yet found a line that isn't lavishly rich. Trilogy, Karen Farley, Antipodes – all very rich. The legendary Hema line cuts to the chase with most of its products being entirely oil-based. Australian skin care products tread a finer line between providing skin nutrition and not making me look like an oil slick. And the Australians have an unbeatable diversity of sunblocks – important to me, because there is skin cancer in my family, and I spend eight months of the year marinated in sunblock. My personal favorite is SunSense Daily Face, which can be mail-ordered here in NZ but is easier to get in Australia.
Beyond sunblock, there are Aesop skin care shops everywhere you look in Sydney and Melbourne, and there's a reason. This shit works. Their light Mandarin Hydrating Cream is just what my iffy skin needs. They gave me a sample of the Parsley Seed Eye Serum, which smooth out a crepey spot on one of my eyelids. If you don't know what I mean by a "crepey spot", continue to revel heedlessly in your youth. If you do know…well, you know what to do.
And I fell for their marketing ploy that if they put a large apothecary jar of tubes on the register counter, someone who is a sucker for large apothecary jars would dip their hand in and observe the products. I know this, and yet – ooooo, apothecary jar!  Anyhow, Aesop marketers, you are forgiven, since this ploy led to me trying your Rosehip Seed Lip Cream. Which smooths out one's lips greaselessly.
Last Aussie style note: had a professional dinner one night while I was there and somebody noted, "I love to travel to Wellington. My wife buys so many clothes while she's there." Intrigued, I asked why. "All the clothes here (in Sydney) are for 20-year-olds!" They found the women's clothing from the NZ designers and shops to be more mature and flexible. Score one for NZ design!