This week and next week, The World of Wearable Arts show is happening in Wellington. Imagine the changeling child of Cirque du Soleil and the costume collection at the Metropolitan Museum of Art, presented as an absorbing son et lumiere spectacle. That's WOW for you.
What happens when a multiweek styelstravaganza comes to a medium-sized city? Bringing hordes of style-conscious visitors who have the money to attend the not-inexpensive event, and who, with the holidays several months away, are spending their remaining money on themselves? It's like a second retailer Christmas, and it's entertaining for those of us who live here.
Deliciously retro department store Kirkcaldie and Stains' has its staff on a high-alert, low-leave schedule, and its windows are adorned with past WOW entry costumes. Boutiques and stores are expanding their evening and weekend hours, to be rewarded by sales from the crowds going to the event. Capital Books, open late, said that the WOW crowds were already good to them, snapping up sewing and fashion tomes.
Shoe designer Kathryn Wilson even saw fit to inaugurate her spring pop-up store, the SHOEBOX, during WOW week. A gleaming crystalline boutique has suddenly appeared twenty meters from the arena where World of Wearable Arts takes place, brilliantly lit as a spaceship: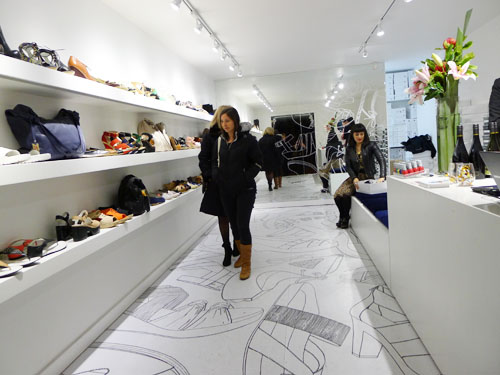 Inside, along with the bon-bons and soignee vendors, are shoes that define New Zealand luxury; buttery leathers, subtle colors, heels that you can walk in as you transfer your weekend bag to the seaside bach.
The shoes' construction is, well, those who like Fluevogs and Chie Mihara won't be disappointed. They also pass the "but are they COMFORTABLE??" test. Kathryn Wilson has two lines – the Miss Wilson line is less expensive – and you can also check out the sale section of their web site. I enjoyed the novelty of cruising shoes after dark by the waterfront, myself.