A huge part of the fun of World of Wearable Arts is what Wellingtonians themselves like to wear to the show. I went down there with my camera and snapped away. I got so many shots that I'm splitting them into two posts. This one is individuals and couples, and the next one is groups and families.
Looking at the show attendees, I saw black, black, and more black, with very few florals, which are supposed to be in – instead, more than a few all-white looks, and white or orange coats. Lots of that orange, from natural to fluorescent. Instead of a lot of vivid lips – Wellingtonians don't, as a rule, wear heavy lipstick – I saw pale lips and silver-sparkled eyes (glitter, shadow, body-painting-level art). Many of the best-dressed sauntered in very early to take advantage of catered packages and, perhaps, a cocktail night or something. I missed some lookers while I was checking with event security. Ah, well.
This super-fresh redhead built on classic black with shots of color; her glasses were black and white harlequin. Note the shoes!
The only picture I took indoors – she's so luxurious yet comfortable, with the glorious textiles and the suede boots.
Sweeping motion with his long silk skirt, which caught the wind, and check out the vivid jewelry.
More vivid color in the night with this caped crusader.
This designer made her ravishing silk outfit herself. She'll be launching a children's clothing line soon, she says.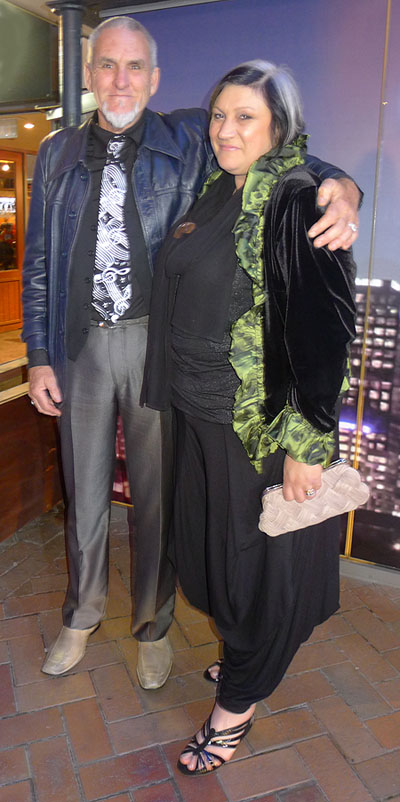 The lady in this well-dressed pair teaches costume at the South Seas Film School.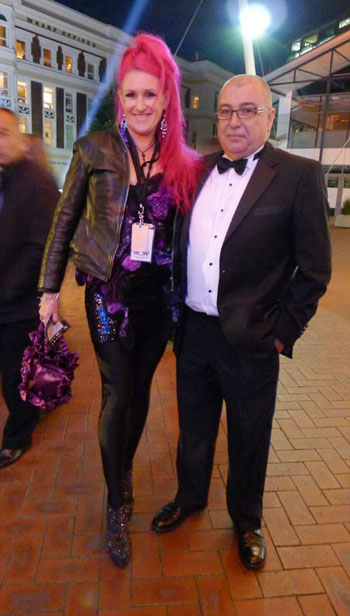 I just adore men in tuxedos, and the striking lady is one of the WOW designers. I've just spent half an hour trying to Google her sv-intense name, to no avail.