Going to America, New York feels…somewhat mandatory. At least, it is if your father and brother live there. I stayed for four days and spent most of the time catching up with people. "New York is one of the most uncomfortable environments there is," says my Brooklyn-based brother. "You can get away with anything as long as you don't get in anyone else's way." It was frantic and crowded and sweaty and dirty and exciting and full of wonderful, high-energy people.
In Bryant Park, meeting up with a friend, we ran into a fashion shoot and a separate Lolita meetup. By the carousel, of course!
Bryant Park cafe cake. Very dark and rich.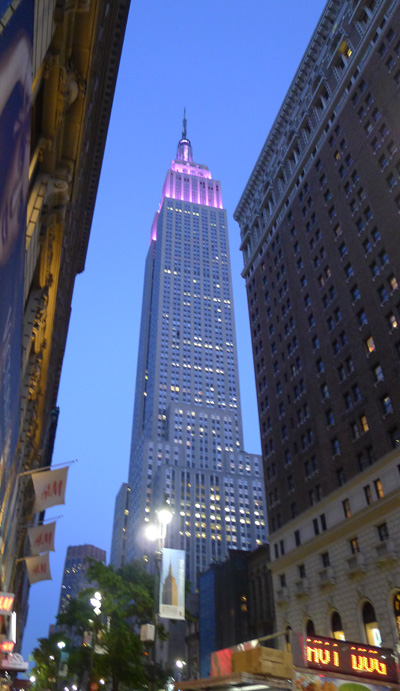 I stayed very close to here for three nights. Had some fabulous food in neighboring Koreatown.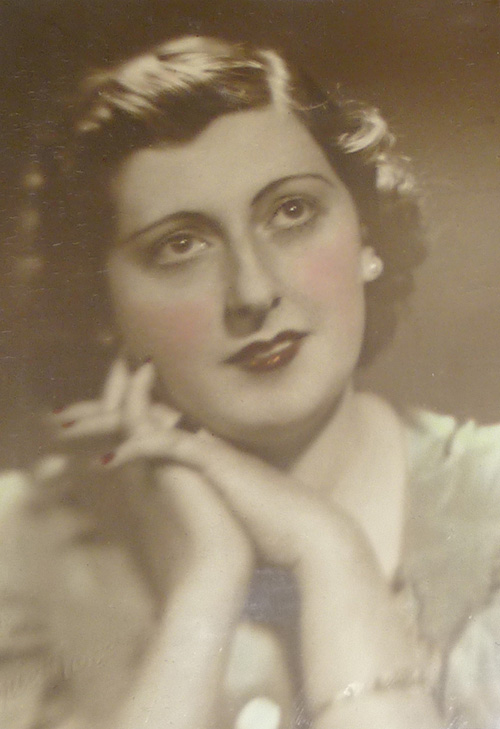 Rediscovered at my dad's place, this photo of my Argentinian grandmother, aged 22 here.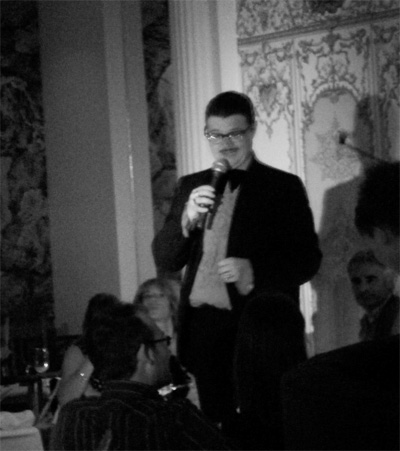 It's not a New York trip without a dose of burlesque or cabaret. And I got mine from Mister Showbiz himself, Murray Hill! I saw him perform on May 18th, at Galapagos Art Space, with my "show date" being Judith of Unseen Censer. Such a pleasure to see the emceeing master at work. The show was flawless, too – unlike my excited, shaky photography. So this far better image is via Creative Commons, so you too can feel the love.
A word about New York shopping. It's easy to get overloaded, jaded, bewildered, and overspent very quickly. If you have a strong interest in music, or crafts, or graphic novels, or some other highly specific hobby or subculture, you may get more pleasure out of spending money on the specialized items for these that you can find in NYC than on the chimera of "New York style." But many visitors to New York are convinced the chimera is out there…
I find my best New York fashion return-on-investment comes from cosmetics. It is worth it to pick your favorite cosmetic counter and get some refreshing tutorials along with your purchases. My favorite is the boutique brand Paula Dorf, and their Henri Bendel counter is staffed by makeup sorcerers.  I went to them and said, "My eyebrows – can you help?" They did.
Clothes were more hit and miss – I'm not the only one to find this season of clothing rather meh. Macy's on Herald Square was vast and confusing. I preferred the cleaner, more tranquil, and better curated Lord and Taylor at 38th Street – their sale racks had some bargains that matched items I was seeking.
New Yorkers look like everyone and wear everything – the full cross-section of humanity, not the tooth-bleached actors in Manolos we get in the media. That said, this spring, the New York fashionistas got a memo that said "Wear a very, very simple black dress. And beige shoes, and a bag of an entirely different color. Top it off with a clunker of a necklace or a bracelet, but NOT both."