"All things considered, I'd rather be in Philadelphia," said W.C. Fields before his death. And I've been thrilled to be back in the city I lived around or in for ten years. Seriously, I am so happy to be here. Some things haven't changed, like the picture below, and some things have.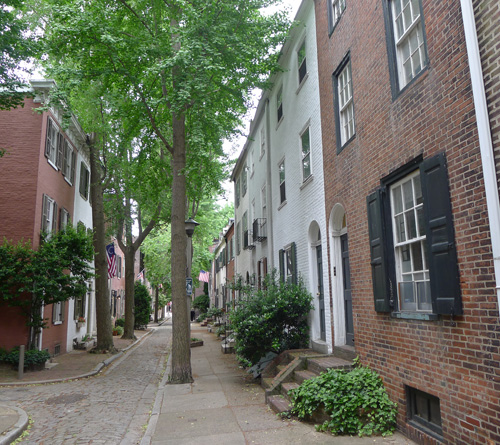 I used to live in the house immediately on the right.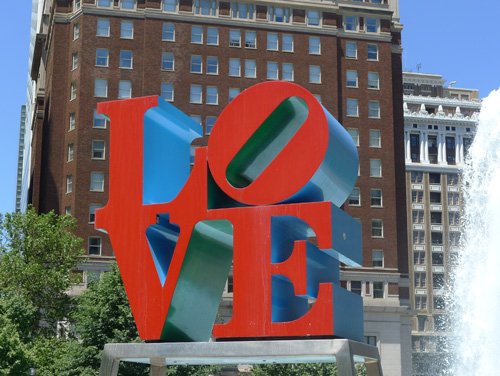 The famous "LOVE" statue on a perfect spring afternoon.
"Quest' at the Philadelphia Academy of Fine Arts.
Flag and bunting emporium in Old City. Philadelphia has gotten a LOT more into the patriotism thing than it used to be. When I lived here in the 1990s, a lot of the historical atrractions were run down after a then-stylish update in 1976. Now, a massive new visitor's center welcomes tourists and entertains them with storytellers and costumed historians. The line for the Liberty Bell snakes around a city block. New museums and a Philadelphia son et lumiere show have opened up. There was a Tea Party protest going on in front of a government agency.
Also, while visiting my mom in CT, I watched a lot of those new restaurant-voyeurism TV shows, which all seemed to focus on meatloaf. Evidently these shows found rich subject matter in Philadelphia – I went to Reading Terminal Market and my co-diners were Instagramming their food. It's like everyone else realized how great Philadelphia is, and the result is some Philadisneying. Hm. I always praise Philadelphia to people outside the U.S. as a fantastic, affordable, walkable place to visit and get a sense of The Real America, much more than New York, which is its own beast. Based on the accents in the crowd, non-U.S. visitors have discovered Philly, too.
Away from the Liberty Bell and Benjamin Franklin and Betsy Ross, there's a vibrant liberal city with a strong queer presence. Medicine and science have been an integral part of the city's  intellectual life forever, leading to institutes like the Philosophical Society and the Mutter Museum. It's crowded – but not too crowded. Perhaps it's because the crowds are thinner that I'm finding Philadelphians even more stylish than New Yorkers. Neon green, hardly seen in New York, is out in force here. The City of Brotherly Love is not as cheap as it once was, but I still recommend it to New Zealand travelers, especially as a stop between New York and Washington D.C.
Next post I'm going to discuss the beauties of Philadelphia shopping. Hold on to your tricorn hats and wallets.