Karen Walker launched three new fragrances, starting in New Zealand – and Ever So Scrumptious was invited to try the scents and meet Karen Walker herself.
For international style-lovers, Karen Walker brings fresh, wearable Antipodean quirkiness, especially with her successful eyewear line. For style-conscious New Zealanders, Karen Walker is the gateway to investment style with "accessible luxury" – I note that Karen Walker jewelry is often the first silver or gold piece a young woman owns. And now the brand has branched out into another area of accessible luxury with fragrances.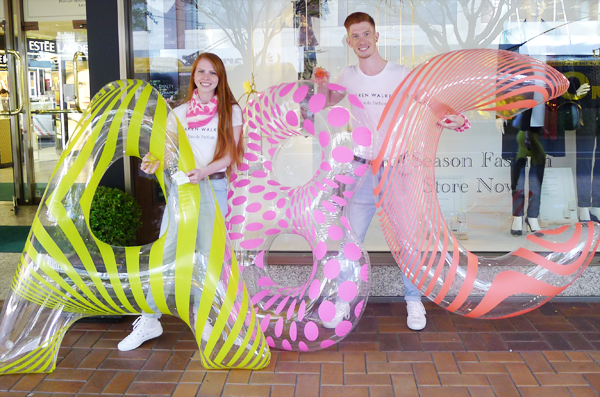 The fragrance launch event in Wellington was everything fabulous about style in New Zealand. Cheerful redheads flourished giant balloon letters to greet us, making our day more surreal. Inside, several stands with the three perfumes awaited us, with vivid cards for spraying samples. There was a sparkle of excitement amongst the handful of people, always renewed, who waited in a loose queue to meet Karen Walker in person. Where else is a globally famous designer going to be so accessible?
Karen was polished and relaxed, pausing to grab shopping bags to package up inflatables, or to hand out macarons to astonished fans.
A little rough-voiced after chatting with well-wishers and fans for two and a half hours, Karen made the time for a short interview with me about the fragrances.
What's the first perfume that you ever wore yourself?
"Loulou by Cacharel." This was given to her as a gift when she was 17 by her then-boyfriend, now-husband Mikhail. "I still sniff it every now and then, going through duty free!"
You say your scents are for the Karen Walker woman – who is this delightful being?
"Interesting people looking for interesting ideas. I don't think there's an age, there's a size – it's an attitude. It's all these women around us right now!" Karen was absolutely right– here are one or two of the stylish crowd.
The bottle design here makes me think of Yayoi Kusama's colors and patterns, and a lot of your design has a Surrealist edge. What artists inspire you?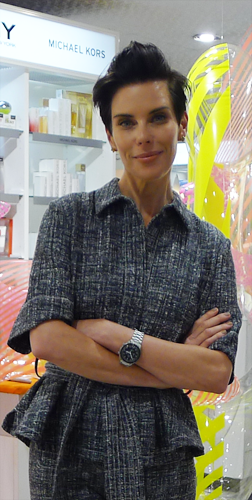 "My favorite at the moment is Jeff Koons. I went to his retrospective in New York last year – it was the first time I've seen any of his work in person. So marvelous. It's the pop sensibility combined with beautiful artisanal craftsmanship – taking something banal and elevating it. So much of it is about the detail."
I see that one of the keynote concepts for these fragrances is optimism. Can you tell me more about why it's important? Especially in these difficult times.
"It's just in my nature. I'm definitely a glass half full type. I look for the upside, the action point… A sense of joy, fun, optimism, and humor." We agreed that this perspective was a greater fulcrum for change than sitting around moaning "it'll never work."
Will there be X, Y, and Z fragrances?
I ran this past the elegant Miranda Waple of The Six Senses, fragrance brand partner with Karen Walker. She broke my heart a little by saying, "Not at this time, no." What's more, Karen confirmed that the launch of these fragrances is limited for now to New Zealand, Australia, and a very few outlets in Europe – a fact that many present found deeply satisfying, saying to me, in asides, "Finally, for once WE get something first!"
So: the perfumes. None of these are nose-killing scent bombs. "You can wear them in the elevator," Karen said. "But they'll also stay the day." Miranda discussed their international development with me. "The bottles alone! We went through 15 different atomizers to find just the right one."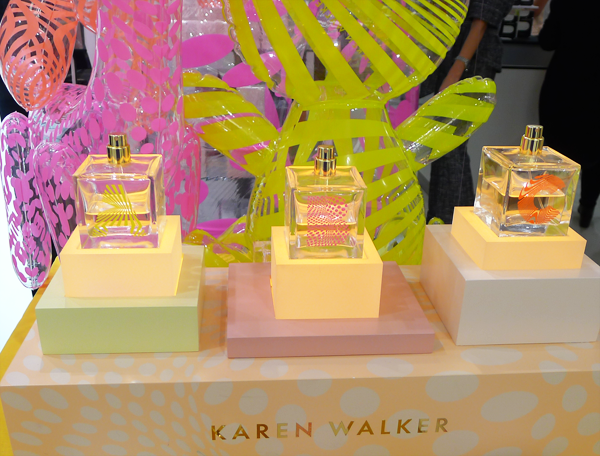 A: Aptly called "the happiness potion",  this has "top notes of cassis, crushed mint leaves and grapefruit, heart notes of rose, lily of the valley, green tea and ylang ylang, on a solar musk base." It starts out fresh, clean, and green. At first spritz, it's all about the grapefruit and mint top notes. This is going to blast through a cold wet Antipodean morning to wake you up.  In the drydown it relaxes into its rose and green tea base. "Solar musk" seems to be the lightest, warmest sort of musk, gently anchoring those base notes – read more about it here. Nor did I pick up much of the cassis – fine with me! Try this if: You want a unique fragrance that has a New Zealand edge.
B: The "gourmand" of the group, it uses culinary notes, without being too sugary. "Top notes of bergamot, pink pepper, and grapefruit, heart notes of iris, white rose, peach and Sambac Jasmine, and base notes of patchouli, praline, tonka bean, musk and vanilla." The yes-it's-a-floral top note dries down to something spicy and sprightly with enduring florals twined around it. This was, unexpectedly, my favorite and the favorite of many of my friends who sniffed it, too. "That's OK. We can be scent twins. Scent quadruplets!" Try this if: You want to express your femininity. Or just smell delectably delicious.
C: Described as "sensual", this is the richest of the three, for the brave, grown, and sexy. "Creamy, sensual floral with top notes of gardenia, magnolia, mandarin and bergamot, heart notes of tuberose, orange flower, Sambac Jasmine and lily of the valley, and base notes of sandalwood, amber, musk, and cashmere wood." Of its range, gardenia, jasmine, and musk made an impression. While very wearable for a musk fragrance (it's positively polite compared to some) the musk base note really comes through in the drydown. Try this if: You're a long-time Chanel fragrance fan.
In an interesting breakdown, people either fell in love with C immediately and forever, or wound up torn between A and B. B smells like you have money, whereas A, with its edge, smells like you're making money. Several of us wandered around that evening, sniffing our wrists – on my ordinary Caucasian skin, on a cool evening, the perfumes lasted a good seven hours. Not too strong, but just right – one of the signs of quality fragrance.
As an aside, I like the portrait image for C best – it really evokes what it's like to wear a favorite perfume.
Following the launch at Kirk's, there was a cocktail party at the Karen Walker boutique, populated by Karen Walker women in the flesh. "The scents are so beautiful." "Karen's a very savvy business woman, very intelligent." "Mmmm, these coats." And later, as a coup de grace that would surely please both Karen Walker and Jeff Koons, I saw someone walking down the street carrying their inflatable prize of a giant Karen Walker B, mystifying the night on Courtenay Place.
And I have a giveaway for Ever So Scrumptious readers: not fragrance, but a unique collectible. A superfun Karen Walker inflatable bunny signed by Karen herself! Leave a comment here saying which perfume sounds the most like you, Karen Walker A, B, or C to be in for the random draw. You need to be in New Zealand or Australia to win! The prize will be drawn this Thursday at 6 PM NZ time.