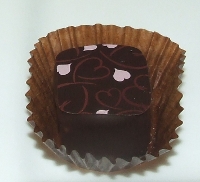 Do you have imaginary businesses? I know I do. One of them would be a chocolate boutique. Making exquisite yet amusing bon-bons. With beautifully designed boxes for the confections, and using El Rey chocolate, and …then I wake up. Oh, I've made chocolates at home. The simple yet messy processes of dipping strawberries and rolling truffles taught me to respect actual chocolatiers. There are two or three excellent ones in Wellington, and I'm so pleased to be able to interview one of my favorites, Jo Coffey of L'Affaire au Chocolat.
I first encountered L'Affaire au Chocolat at the City Market; the fine truffles and varietal chocolate bars made an impression of me. Finally, I made it to the store, where I was charmed, not only by the cozy refinement of the little shop, but by the master chocolatier behind it, Jo Coffey herself. There is both warmth and stainless steel behind the chocolate to make this dream of a business succeed. My purchase of a few saffron truffles one day turned into a conversation – Coffey and I are both aficionados of South American chocolate varietals –  and this interview is the follow up.
The day I went to meet with Coffey in her store, there was a constant stream of customers, saying, "I hear you've got the best hot chocolate in town…" And it's true: she does. Made with simply frothed milk and a ladleful of melted fine dark chocolate, served with a dark chocolate morsel on the side,  it's hot chocolate perfection. The serried ranks of glossy chocolates in the case became depleted as the morning went on, too.  Coffey gave me a peek behind the scenes at her chocolate vats (vats! of chocolate!) and took the time to answer these questions.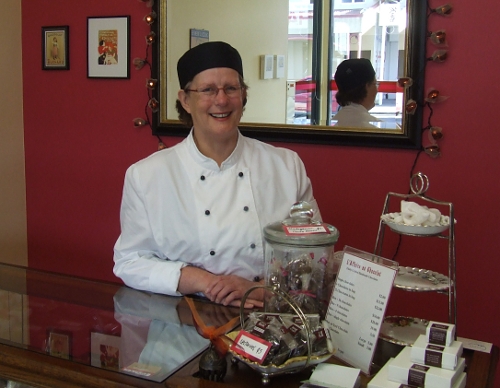 Behind the cut, Coffey remembers sweets for tuppence, describes the men who buy chocolate, and shares with us why French food is suddenly everywhere, again, and how to be a more intelligent chocolate consumer.
Your path to becoming a chocolatier is well described in the interview with you at the Dominion Post. What's your personal history with chocolate?  
I have always had a sweet tooth and enjoyed making simple treats.  Many years ago I made a version of chocolate which in those days I thought tasted pretty damn good, it shows how one's tastes change!  I always ate chocolate as a child. Whittakers sante bars were a favourite, as were the Cadbury Roses chocolates and chocolate dipped ice creams which were known in Christchurch as a "brown derby".  As a young child I caught two buses across town to school and even as 6 year old I had worked out that I could spend the bus money for the first trip home on treats at the dairy.  My friends and I would then run to the Square and still be in time to catch the next bus home and avoid getting into trouble.  There was such a choice at the dairy and the penny or tuppence went such a long way. I am now fussy about my chocolate and will throw chocolate away if it is not enjoyable.
Wait, something's missing there. What was the transition point for you between the inexpensive chocolate and the good stuff?
In early childhood I grew up in a hotel and we used to eat in the main dining room at night. Mum was quite a good cook, adventurous, and Dad used to bottle and preserve. Every week she'd make two cakes and a batch of biscuits – she was a good baker. When I left home I got a job with the tourist bureau – I stayed in THC hotels, and you ate really good food, wine, liqueurs. It was a whole different food environment. At 18, 19, you were eating carpetbag steaks, having crepes flambeed at your table. Probably I didn't appreciate it enough!
That's so M.F.K. Fisher. Can you tell us more about how you learned the confectionary arts? 
When I decided I wanted to make chocolates I attended a school in Melbourne run by a wonderful woman Kirsten Timball who is a chocolate master.  Kirsten made everything look so easy.  Initially I did a five day course, which covered all the basics such as pre-crystalising (tempering) the chocolate, moulding and dipping chocolate, learning to make fillings, and some of the history of chocolate and how it is made. Later I attended a couple of other courses at the same school, one with a renowned Belgium chocolatier and that was really challenging.  Attending the classes opened up a whole new world for me.
Lots of us have the idea of starting up our own small business producing "the best of the best." You've actually done it and it's your third or fourth career. What is your advice for women planning a career change starting their own business? 
It's important to remember to work ON the business, not IN the business. They're two different things.  People have to decide if they want a business or a job.
They need to enjoy a challenge, be able to work both alone and in partnership with others, follow their heart and their dreams and have lots of fun along the way.
Chocolate has become a very "gendered" treat, associated with women.  Which is interesting to me because in my house, it was my father who had a sweet tooth and brought chocolate home. Your thoughts? 
Quite a number of my regular customers are men. I think of men as having a preference for more savoury foods and not into really sweet food whereas women are often looking for a sugar fix disguised as chocolate.  Recently a woman said to me that she thought that she was addicted to chocolate but had only just realised that she was addicted to the sugar in it.  My chocolates are not too sweet (caramel being the exception) and I think this appeals to men.  I think it is partly about the way it is presented; men are very interested in understanding chocolate and need to be introduced to it in a different way .  I have a couple of young boys (under 2 years) who come to my shop with their parents and are already eating 64% or 70% chocolate and really enjoy it.  One in particular savours the good chocolate and his mum has said he just scoffs cheap chocolate.  Chocolate was one of the first words both of these boys could say.
 Your chocolates are very elegant, in the European tradition, and along with your confections you also stock several French chocolate brands. Suddenly in 2011 all these French cafes are opening up here – it's like Italian is out and French is in, for Wellington. Why is Wellington having a culinary Francophile moment? 
There is now quite a big French community in Wellington and it's growing.  The French are connoisseurs of fine food so it is not surprising that we have a growing number of French people producing fabulous food.  Who can resist those gorgeous macaroons the French are famous for, or the delicious breads and pastries they make?  We can all learn lots from their food and their flair for fine things.
What should we know to be more intelligent about chocolate? 
There are a number of tips to consider.  First always read the labels, if there is a book of ingredients then it is probably not worth eating.  The main ingredients in chocolate are cacao solids (cocoa butter and powder) sugar, and possibly soy lecithin and vanilla.  Milk chocolate will have milk powder added.  Some white chocolates have no cacao products in the ingredients and some would question whether this is chocolate.  Palm oil which is often substituted for cacao butter is indigestable and often leaves a greasy film on the roof of your mouth.  Cheap chocolate often contains palm oil.  The higher the percentage of cocoa solids the less sugar it will contain e.g. if you eat a dark bar of chocolate containing 45% cocoa solids then the remainder of the ingredients will be mostly sugar.  The question then is "is the addiction chocolate or sugar".
A chocolate bar having a high percentage of cacao solids does not have to be bitter, bitterness may come from the way the chocolate is treated and the quality of the bean.  Like wine, buy the best chocolate you can afford as it will be more satisfying and the taste will generally linger on the palate.  Usually you will not want to eat as much good quality chocolate.
Chocolate should be glossy, it should crack (known as snap) when broken, melt at body temperature, and feel smooth in the mouth.  If a chocolate bar is gray looking it may indicate it is old but it may also mean that it has been stored out of its preferred temperature range, which has affected the crystal structure in the chocolate.
When eating chocolate break the chocolate, smell it, then place a piece in your mouth. Bite into it. Move it around your mouth and then savour the flavours.
Lastly, ENJOY!
Coffey is participating in the Wellington on a Plate festival at the event The Dark Side of Coffee and Chocolate. This event is now totally sold out! Those of us who can't go are missing a live demonstration of roasting coffee beans, followed by tastings of paired coffee and dark chocolates. But you can still visit her shop and get some fine chocolate to have your own tasting.